Who to Hire to Remodel Your Bathroom
It's time for a bathroom upgrade and you need skilled experts to do it right while minimizing intrusion. But a bathroom renovation requires many different areas of expertise. It's no wonder that so many homeowners struggle with deciding who to hire. So how do you figure out who to hire to remodel a bathroom?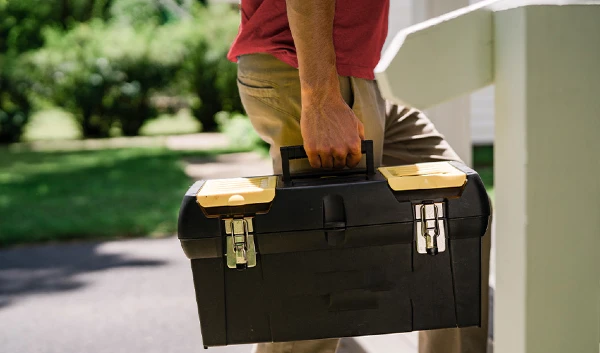 A Great Bathroom Remodel Starts with a Great Team
You will likely need a plumber, an electrician, and a handyman. Depending on the size of your project, you may want to bring in a few other professionals too. No matter who you plan to hire, here are our tips for screening service professionals.
Many bathroom remodeling companies claim to be leading experts, but only a few can back up this bold statement. And since the average cost to remodel a bathroom in the United States is $20,000, you want to make sure the professionals you hire are efficient and qualified.
Here are some questions to ask:
Are they qualified for the job?
Before signing a contract, make sure the provider can handle the scope of your project. Although small jobs may not require as much experience, some of the hottest trends in luxury bathrooms need a bit more skill to master. Ask to see a portfolio of past projects. Honest professionals will be eager to show off their work.
Reliable companies know how to stick to your schedule. Professionals arrive on time and strive to finish by the deadline. Before getting to work, they should be able to provide you with an estimated date of completion so you can plan ahead.
Make sure you only hire companies that have both liability and workers' compensation insurance. These policies protect your property (and bank account) in the event of an accident.
What are their credentials?
Depending on your area, bathroom remodeling companies and related experts may need certain licenses or certifications to operate. Run away as fast as possible (or hang up the phone) if they refuse to show you credentials.
Watch Out for Pricing Pitfalls
As you begin to line up your bathroom remodeling team, protect yourself from overspending. Figure out a budget before you start. This will help you keep your expenses in check and stick to your schedule.
However, you may want to set aside funds for extra features that you discover after the remodeling begins. Maybe you want to upgrade your shower with custom bathroom glass from Glass Doctor®. View their impressive shower glass innovations, and find out whether they have a glass team in your area.
While handling some tasks by yourself may seem like a good idea, carefully consider your available time and skills so you don't end up wasting money. For instance, many homeowners make the mistake of painting their bathroom walls with the wrong paint and techniques. While it looks all right at first, they notice peeling and cracking down the road. Here are 12 reasons to hire Five Star Painting®, a Neighbourly brand, to handle your painting needs.
How to Save Money on Your Bathroom Remodel
If you are looking for ways to save money, you could design the bathroom yourself and provide images and blueprints to the pros. You could also buy some of the materials, such as tile or hardware, up front. Ask your service providers what they suggest doing to save time and money without sacrificing quality.
Don't forget to leave some wiggle room in your budget. Although you know your home better than anyone, you may be surprised with what uncover when you rip out old fixtures. (Did someone say water damage and exhaust fan issues?) Honest professionals will always inform you if they need to adjust the budget for any reason.
Let Neighbourly Help You Remodel the Bathroom
Now that you know what to look for when finding and hiring help to remodel a bathroom, it's time to dive in! If hiring several experts feels overwhelming, Neighbourly® (that's us!) takes the guesswork out of finding skilled pros.
If available in your zip code, here's a great place to start. We suggest:
Our brands maintain a reputation for excellence nationwide. They care about great service, but they also care enough to educate you about home improvements. For example, Mr. Rooter has helpful tips for saving money on your bathroom remodel project.
You can connect with a trustworthy line-up of pros right here on the Neighbourly website. Browse our list of home services or call 855-263-6602 to start your dream bathroom project.