What's the Average Cost to Add a Bathroom?
Most people begin and end their day in the bathroom. More likely than not, they're making several trips to this room throughout the day, too!
It's an important room in your home, and when you need to add another one, you might wonder how much you'll have to invest. Use this guide to help you think through details of this project.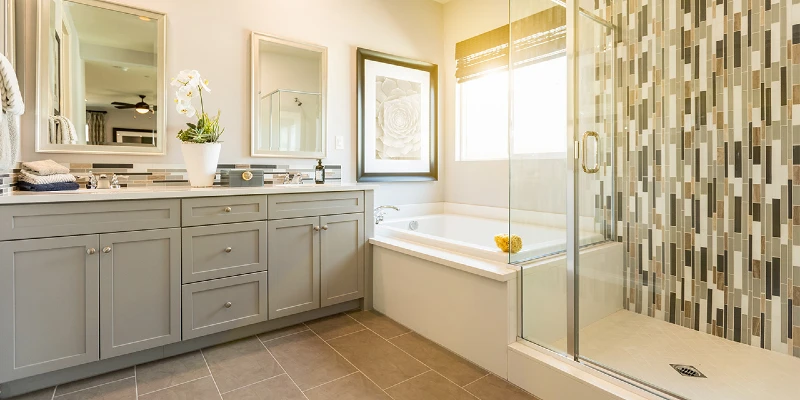 The Short Answer
So, what's the average cost to add a bathroom? The short answer is $6,500 to $10,000.
Obviously, this investment range is just an estimate. Your actual costs for this project will depend on factors like:
Beginning with an existing room or building an addition
Size of the room (full bath versus half bath)
Desired design features/fixtures
The Long Answer
No matter your budget, you can do something to improve your bathroom situation – even if that means modifying bathrooms you already have so they work better for your home and life. Let's break down the major costs associated with adding a bathroom.
Construction choices – A half bath is less expensive and perfect if you just need an extra toilet in the house. However, full baths add more value with an extra tub/shower. Either way, determine what your space will allow for and if you'll renovate an existing room or start from scratch.
Plumbing renovations – If you haven't thought much about your plumbing system before, you will now! If you don't have to, avoid switching up your home's plumbing system. Otherwise, you'll need to involve permits and contractors. Get in touch with a professional for their input.
Electrical work – The same applies to electrical wiring. If you can, choose an area of your home where plumbing and electrical don't need modification. For your safety, please consult a professional when working with your home's electrical wiring.
Walls and flooring – Your flooring investment will depend on your type. As a baseline, tiling your floor would require an average of $500. Ceramic tiles cost around a dollar per square foot, where porcelain can cost anywhere between six and nine dollars.
Important installations – The shower/tub is the center of any full-size bathroom, and installation alone costs an average of $3,000. Plan for extra costs for any bells and whistles (think body jet, speakers, etc.). Installing toilets/sinks averages anywhere from $200 to $500.
Make Your Home Your Own
The good news? When done right, this investment should provide excellent value to your home, with an average return of 60 percent. Whether you choose a half bath or full bath, brand new or from an existing room, adding a bathroom is seldom a bad idea.
Our Neighbourly brands would love to assist you in any way that we can. Visit our home page to explore Neighbourly home service professionals in your area and schedule service.
Financial information attributed to Home Advisor
Related Blogs:
It's Time for a Bathroom Deep Clean
Luxury Bathrooms: Wildly Fancy Features & Trends