Luxury Bathrooms: Wildly Fancy Features & Trends
If your home is your castle, then why not make a few improvements to help you truly feel like royalty?
At Neighbourly, we believe your day-to-day routine can be luxurious – it's all in the details! Whether you're looking to completely revamp your space with wildly-fancy features, or add classy touches here and there, we've got the tips (and experts! to help you get there.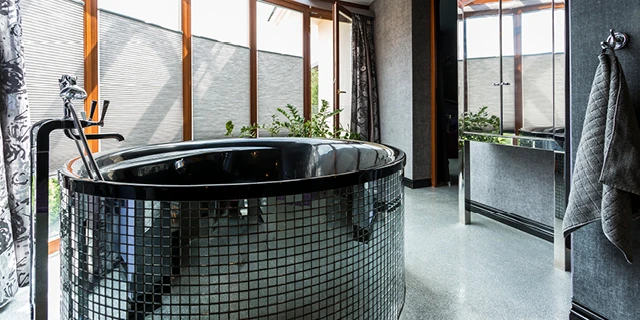 10 Luxurious Tips
Before getting started, purge your bathroom of any unnecessary clutter. Less is undeniably more in making your bathroom feel more expensive and upscale.
Install a bidet. If you're a world traveler, you've likely seen bidets all over Europe, Japan, or South America. Add an international flair to your space with the help of Mr. Rooter Plumbing.
Wrap up in a warm towel. Grabbing one off a hook just won't cut it! Crank it up a notch with a fancy towel warmer. Mr. Appliance is your authority on bathroom gadgets!
Splurge on the shower. Whether it's making it larger, adding a second shower head, enclosing it in glass, placing unexpected tile underfoot, or installing body jets, shower updates are never a bad idea.
Rock your countertops. Granite and marble countertops are the epitomai of modern luxury.
Heat up your floors. Say goodbye to that dreaded gust of cold air after stepping out of a hot shower! Maximize comfort with heated flooring to accompany your warm towel.
Splash the walls with fresh paint. This simple update can transform the look and feel of your bathroom. Choose a light, calm colour to brighten the space and make it feel larger and spa-like.
Add recessed lighting. Recessed lighting enables you to illuminate areas where mounted fixtures aren't ideal, such as inside the shower. Consult the pros at Mr. Electric for installation and safety tips pertaining to bathroom moisture.
Swap out brass pulls. This inexpensive hardware update has major design power! Replace dated knobs and pulls with more modern hardware. Or, visit an antique shop for one-of-a-kind finds.
Replace that standard mirror. Standard frameless mirrors make your space look dated. Spruce it up with a beautifully-framed hanging mirror.
Adorn the walls with crown molding. Crown molding is a classic way to "frame" your entire space, adding an elegant touch to any room. Call Mr. Handyman for installation help – they can even give your existing molding a pick-me-up.
Voila! You are now the proud owner of a bathroom that's fancy and functional. Light a candle, turn on some music and start the bubble bath – you've earned it!
Whether you need bathroom updates or any other improvements around your home, the Neighbourly family of trusted home service experts is here to help.
Related Content:
How to Declutter During Spring Cleaning
Increase Home Value: Room-by-Room Improvements