Make Your Decluttering Easier
So you've accumulated too much stuff in your home. You can feel that it's time for a purge – but you're not sure where to start decluttering. This can be a stressful feeling if your schedule is already packed. It can be doubly difficult if you have the tendency to pick something up and say, "I might need this later."
Here's how to overcome any challenge getting in the way of your decluttering process.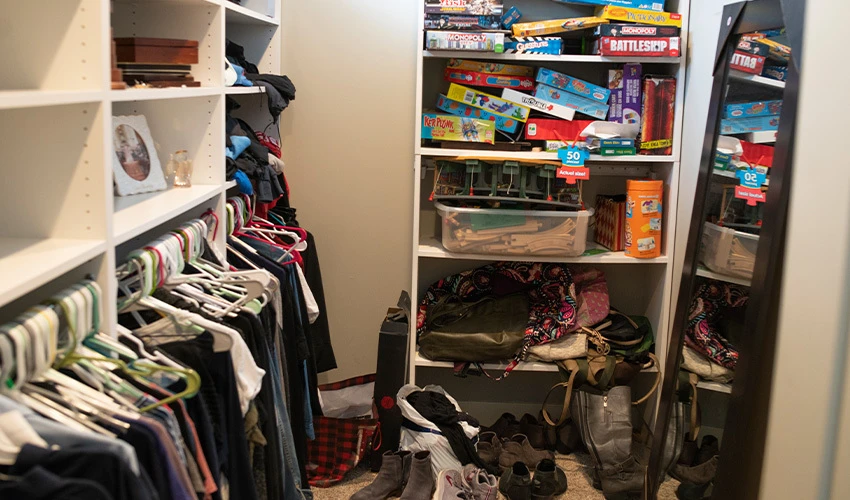 The Best Way to Declutter
Start with the smallest, least overwhelming room. This may be a linen closet or bathroom.
Empty all containers, and sort those objects into "keep," "donate" and "throw away" piles.
After the containers are sorted, sort the loose items in the room into the same piles.
Next, go through anything on the walls, including curtains or other fixtures.
Finally, assess the furniture situation. These items may feel permanent, but you can get rid of any object you don't love.
Donate your donation items, and throw away your throwaway items.
Consider putting the "keep" items back in a different place than before, somewhere that feels more accessible and natural.
Declutter Your Home Thoughtfully to Limit Stress
If decluttering makes you feel anxious, don't worry about doing it all at once. If one room is what you can handle in a day, do one room! Pick up each item, and thoughtfully assess the way it makes you feel and the space it takes up. Turn on your favorite music, and take short breaks when you need to.
If you're indecisive about some items' fate, it's okay to make a "maybe" pile at first. Put the "maybe" items somewhere out of sight, and then make your final decisions when you're done with everything else.
Additionally, don't worry about cleaning a room at the same time as decluttering. You can do a deep clean of the whole home when you're done purging excess belongings. Use this cleaning checklist, or – better yet – hire an experienced house cleaning team. Check to see if there's a Molly Maid® team near you.
Donating Electronics and Appliances
Have you ever seen a TV or a refrigerator abandoned on the side of the road? Whoever left those behind didn't read these resources:
The Ultimate Guide to Recycling Electronics
The Dangerous Types of Clutter
These types of clutter can be hazardous to you, your family or your house:
Mold, water damage or smoke damage
If you find these substances, see if there's a local Rainbow International® to come to the rescue.
Pest waste and dust in your air ducts
Dirty air ducts are a health hazard and a waste of household energy.
Mites, dander and other allergens in your carpets
Get carpet cleaning from experts with decades of experience.
Hidden dryer lint buildup
Find out why professional dryer vent cleaning is important for your safety.
Regular decluttering and cleaning will help you identify some of these problems if they exist. This is just another reason to periodically clean up!
Now you know where to start decluttering, and you know the best tactics. The next time your house needs care – from lawn care to painting to carpentry – count on the Neighborly® family of pros to provide amazing service. Search for any of the home services you need.