Spring Cleaning Safety Tips
Spring has "sprung!" The flowers are blooming and the sun is shining, making for the perfect day to open your windows and doors up wide and to "clean up and clear out" for spring.
Before you begin your spring "extreme cleaning," Neighborly invites you to consider these important safety tips.
Stay Safe When…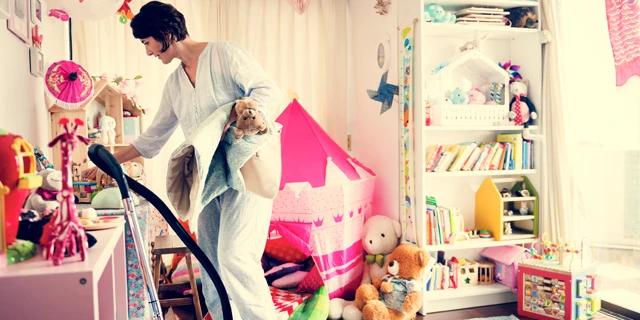 … cleaning your gutters. When cleaning your gutters, it's essential to ensure your ladder has good footing. If possible, have someone hold it steady for you. Or, use a leaf blower to clean them safely from the ground. Window Genie can help!
… trimming the trees. You may be trimming your trees for safety reasons – stay safe while doing so! Be sure no little ones are around when trimming larger branches and that fingers stay far from the blades. Also, triple-check you won't be cutting into power lines. The Grounds Guys can help with any of your yard work essentials!
… disposing of your appliances and electronics. Don't just throw them in your trash can! Mr. Electric has the ultimate guide to recycling electronics safely and correctly. Check it out before junking your old phone or computer this season!
… washing your windows. Looking to get the gunk off your window panes? Stay safe when cleaning both inside and out! If April showers have left the ground wet outside, it's probably not the best time to clean the exterior of your windows. But when it's dry, be sure you're equipped with the right tools, like a squeegee and cleaning detergent. Learn more from the pros at Window Genie!
… cleaning your outlets. Have outdoor outlets that need cleaning? In wet locations, be sure your outlets are GFCI-equipped. Take extra precautions by turning off the corresponding circuit breaker before proceeding. Find out more on outlet safety with Mr. Electric!
… dusting your light fixtures. Speaking of electricity, it's best to turn it off when dusting light fixtures. If you're removing glass for this task, be sure you're steady on the ladder and have a helper to pass it to. For help with some of your more complicated cleaning tasks, enlist the professionals at Molly Maid!
… moving the furniture. When moving heavy furniture to clean, prevent injury by spreading feet shoulder-length apart, bending your knees, and keeping your back upright. Your body will thank you when the day is done!
Choose "Healthy" for Your Home
Go green. What products and solutions are you using to clean your home? Consider choosing healthier, natural options that are good for the earth and your family's health. Mr. Rooter Plumbing has great suggestions for replacing your current household cleaners!
Breathe better. While you're dusting surfaces and mopping floors, take a deep breath. Are you breathing as easily as you could be? Spring is the time to pay special attention to indoor air quality. Call Rainbow Restoration to inspect for mold. Also, learn more on air filter replacement with a maintenance guide from Aire Serv.
Open the windows. When you commit to cleaning for the day, it's likely fumes from cleaning products will overwhelm your space. Open your windows to let fumes out and sunshine in!
Got a "spring" in your step? Watch your step! The tips above will help you to clean safe and smart this year. If you're looking for a trusted home professional, we know a few! Explore the Neighborly community of service providers at Neighborly.com.