Instructions for Converting a Bathtub to a Stand-Up Shower
Whether you are more of a shower person than a bath person, or you simply want to modernize your bathroom, converting a bathtub to a stand-up shower is a smart remodeling project with a decent return on investment. These days, a shower is a necessity more than a luxury. A bathtub-only bathroom is uncommon in the US – so what can you do with a plain old tub?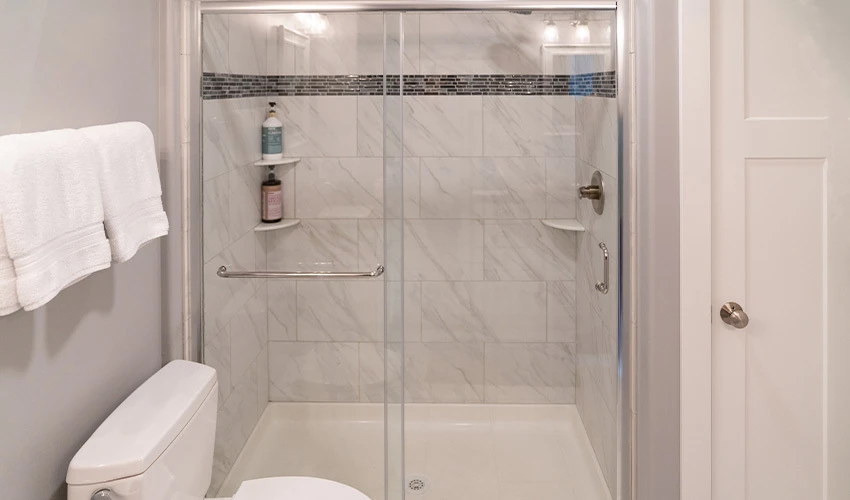 Before you hastily tear out the bathtub, keep in mind that even though potential buyers expect showers, many people (especially those with children) also want a tub option. It may be worth learning how to convert the bathtub to a shower while keeping the existing tub in place.
You have options! Below are instructions for three different methods of converting a bathtub to a shower. We'll also point you to some Neighborly® professionals you might want to consult for inspiration or support.
How to Convert a Bathtub to a Shower
Method #1: Retrofit the Plumbing above the Tub Faucet
This least-invasive conversion process works for a bathtub that already has three walls around it. Here are the steps:
Turn off the water supply to avoid leaks or accidental water damage.
From the room next to the bathroom, open up the wall that houses the tub faucet.
Add and reposition plumbing as needed to fit the new shower components, including the showerhead and controls. If you are unsure about adjusting the plumbing according to code, Mr. Rooter® Plumbing is a trusted resource that may be available in your neighborhood. Better safe than sorry!
Next, choose and install tile for the shower walls. Need some inspiration? Check out these shower tile ideas from Mr. Handyman®! If locally available, the Mr. Handyman team can help you with tile selection and installation.
Install a shower curtain rod and curtain, or a glass shower enclosure. Glass Doctor® specializes in custom glass showers and other types of bathroom glass and has awesome shower glass tips and ideas on their website.
Method #2: Install a Ceiling Rain Shower or Handheld Showerhead
This process is more complicated than Method #1 and is ideal for a bathtub in the middle of a room. Without a wall for housing the plumbing, you will need to choose between a handheld showerhead and a ceiling rain shower. Here are the steps:
Turn off the water supply to avoid leaks or accidental water damage.
Add and reposition plumbing as needed to incorporate your choice of the showerhead. If you've chosen a ceiling-mountain rain shower, you'll likely need to install a new water line, which is a task best left to experts like the team at Mr. Rooter. The plumber must run additional pipes up the wall and across the ceiling, securing them to the truss or other solid structure to prevent rattling.
Install the showerhead.
Select and install the ceiling-mounted, wraparound shower curtain rod or the glass enclosure.
Method #3: Remove Tub and Replace with Shower
While it's not the easiest method, some homeowners prefer to get rid of the bathtub entirely and replace it with a shower. Here's how to complete this process:
Turn off the water supply to avoid leaks or accidental water damage.
Wearing protective eye gear and gloves, remove all pieces of the tub, tile, and surrounding drywall with the appropriate tools, such as a pry bar, hammer, and oscillating multi-tool.
If you discover water damage or mold after taking out the tub, connect with a restoration professional right away. If locally available, we recommend Rainbow International® for their reliable water damage and mold removal services.
Deep clean the area, being sure to remove all debris before proceeding to the shower installation.
Add and reposition plumbing as needed to fit the new shower fixtures.
Install the shower pan, surrounding panels or tile, and shower door.
Big Project, Right?
As you plan out your project for converting a bathtub to a stand-up shower, remember you can always turn to reliable professionals for the services you need. Neighborly has an entire family of home service experts ready to help, all trained and well-known across the nation. Search for services here or in our website menu, and we'll help you out.