Bathroom Remodel
Let's face it, most people wish they had a nicer bathroom. You could always use an extra sink or a better shower. Maybe the tub is too small for you, or you want to upgrade to a multi-person jacuzzi with jets and the works. Whatever the case, a bathroom remodel can solve these issues and give you the bathroom you've always wanted.
Remodeling your bathroom is one of the best things you can do to improve the value of your home. It can also improve the quality of living in your house more than almost any other type of home renovation. Whether you're looking to add a new shower, renovate your vanity, set up a private room for the toilet, or redo all the trimmings, each can make a big difference in how much you enjoy your space.
In the following sections, we'll help you better understand the basics of a bathroom remodel and what work you can do on your own versus hiring a professional: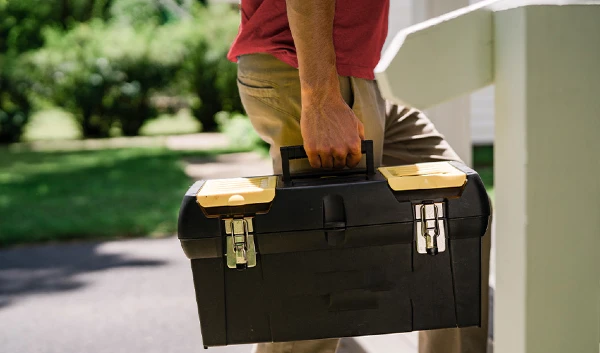 Bathroom Remodeling Basics
When remodeling a bathroom, you'll carry out a few basic steps for almost every project. Here are some of the things you can expect to do when remodeling your bathroom:
Demolition/gutting: You can't make an omelet without breaking a few eggs. That phrase holds true for remodeling as most projects begin with gutting. Bathrooms aren't usually large, so in order to do a significant remodel, you probably need to bust up a few things in your bathroom. Some items that typically get removed during demo are the tub, counters, cabinetry, and existing fixtures.
Plumbing and electrical work: These two things aren't done at exactly the same time, but can both be accomplished at any point when your walls are open and exposed. We strongly recommend hiring professionals for plumbing and electrical upgrades as most homeowners are not familiar with everything needed to do these tasks safely.
Installation: If your renovation involves adding new items to your bathroom, such as a new sink, toilet, or tub, those go in after you've done demolition. This is also when you'll install new cabinets and countertops.
Flooring and walls: While you're renovating the bathroom, you may want to replace some of the existing tile, wallpaper, and even drywall.
Cosmetic upgrades: The final step of any remodel is cleanup and finishing touches. This includes accent work like adding subway tile, floor trim, painting, special tile elements, and shower doors. At this point, you would also install simple things like a toilet paper roll holder, a towel rack, and door hooks.
Common Bathroom Renovation Projects
Some bathroom renovations are more common than others, and certain bathroom projects, like installing a new toilet, don't even count as a full renovation. Here are some of the typical subjects of a bathroom renovation project:
Shower/tub installation: Unlike a new fridge or washing machine, a new bathtub takes a lot of work to install. This project requires an experienced plumber who knows how to seal everything properly and can run the appropriate piping to the correct location.
Cabinet and countertop replacement: New counters and cabinets go a long way to improving the look of your bathroom. This upgrade may also be necessary when adding a new sink to the bathroom, so if you're doing one, it may make sense to do the other while the space is prepared.
Sink additions: Adding an extra sink in the bathroom can solve plenty of morning frustrations. No more waiting for your partner to finish shaving or do their makeup before you can brush your teeth. An additional sink is extra helpful for families with multiple children who lack a separate bathroom for each child.
Cosmetic upgrades: Some remodels don't have to tackle everything, but they can simply make your space look nicer. Adding new paint, tile, or accent work can go a long way toward improving the look of your bathroom and increasing resale value.
How to Start a DIY Bathroom Remodeling Project
Before starting the demolition or any other step in your renovation, you need a plan. Consider these elements when starting a remodel:
Budget: Have a clear idea about what you will spend on a bathroom renovation project. Once you have a number in mind, do some research into the actual cost of each thing you want to do. Afterwards, adjust your budget accordingly. A good rule of thumb is to always budget a little more than you expect to spend. Things don't always go perfectly to plan, and having a cushion can save you a big headache.
Remodel purpose: Remodels tend to have different purposes. For instance, remodeling your bathroom for accessibility purposes will involve different concerns than a cosmetic remodel. Additionally, if you are doing a remodel to increase home resale value, you'll want to follow the trends of the day, which may not match your personal preferences.
Permits: Some bathroom additions, especially adding a new bathroom, require permits. Check the local laws in your area to ensure that you comply with any permit rules.
Bathroom Remodeling Work That Requires a Professional
While some of the remodeling process can be done on your own, you should hire a pro for these bathroom remodeling tasks:
Electrical work: A few bits of electrical work can be done on your own, but you should probably leave it to the pros. This is especially true of electrical work in the bathroom. Electricians can guarantee that the work gets done properly and complies with electrical codes.
Plumbing: Some plumbing tasks are quite simple, but most of the ones that happen during a bathroom renovation aren't. Hire a plumber to make sure that every piece of plumbing gets installed correctly.
Wall addition/removal: If you are adding a wall, it needs to be safe. To avoid any unnecessary risk, hire a professional who is qualified to build and remove walls.
Bathroom Remodeling Services from Neighborly
If you're planning on starting a bathroom renovation, the Neighborly family of brands can help. We have all the services you need to turn your bathroom into exactly what you want. Whether you need professional plumbers or electricians, we can help! Explore our services to see how we can help you achieve your dream remodel.