Small Bathroom Ideas with Shower Only
If you are like many homeowners, you may have a small bathroom somewhere in your house that isn't very functional. In fact, if you have a very small bathroom with a rarely used shower inside, you may be wondering how you might make some real changes to get more out of your space.
Small cosmetic changes are nice and might dress up the space, but to really make a small bathroom functional, it might be time for a full remodel. In what follows, we'll take a closer look at some of the best ways to make the bigger changes your small bathroom needs.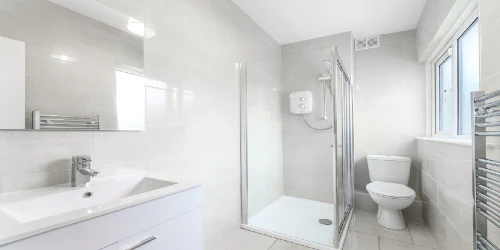 Eliminate the Shower
If you have a small bathroom with an unused shower, the first question you should ask yourself is "Do I even need the shower at all?" If the shower is rarely or never used, it might make more sense to have it removed. With the shower gone, that will give you more space for a beautiful, updated vanity, a great new light fixture, updated toilet, and a new sink. Paired with a beautiful paint job, that former eyesore of a bathroom could become your new favorite room!
Related Topic: So Many Options: How Do I Find a Good Handyman?
Replace the Shower with a Tub
Perhaps the reason the shower in your small bathroom isn't working for you is because you need a tub instead. You could have one installed, but first ask yourself: Does the bathroom have enough space for a tub? If you think there isn't room for a traditional tub, what about putting in a smaller walk-in tub, maybe one with a beautiful glass door?
There are many great options to replace a shower with a walk-in tub that won't require a lot of space to be functional. And using a glass door will add beauty while keeping the room feeling as open as possible.
Knock Down a Few Walls
If your small bathroom space is just too cramped for either a shower or a tub, it might be time to expand. Take a look at what is on the other side of the bathroom walls. Do you have a closet or small room next to the bathroom that could be used to remodel your small bathroom into a larger, more functional one? Many remodels can use parts of available space in other rooms to create a larger, more useful bathroom, the kind of bathroom you want and need in your home.
Eliminate the Bathroom
Finally, if you just don't ever use your small bathroom, maybe you don't really need it at all. If that is the case, why keep it? A small, cramped bathroom could easily be turned into an extra closet or used to make an adjacent room larger. To repurpose a bathroom, you'll just need to have someone eliminate the plumbing or re-route it elsewhere in the house. Simple! With just a bit of creativity, you can turn the square footage you already have into a much more functional space.
With so many options to choose from, you really can transform that small, unused bathroom into a space that you will love. When you're ready to get started, Neighborly brands can help! Our home services brands are committed to providing excellent services, all backed by our Done Right Promise. Visit the link to learn more about our core philosophy, and how it guides everything we do for valued customers like you.