How to Turn Extra Space into the Ultimate Entertainment Room
If you're like many homeowners, you enjoy spending time with friends and family. But when you invite people over, all too often the kids and their noisy play quickly take over the whole house. Wouldn't it be nice to have a separate entertainment room to keep this from happening? If you've got extra space in your house, you could easily create the ultimate entertainment room your friends, family, and their kids will love to spend time in. Here are a few ways to take your extra space to the next level of entertaining fun!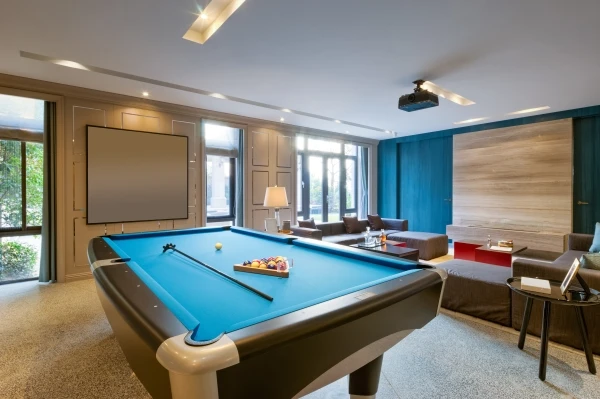 Set Up a Home Theater
One favorite activity of many kids is watching movies or playing video games together. For this reason, it makes sense to start by setting up a home theater in your extra space. Perhaps you have a basement you aren't using to its full potential or a garage you could convert.

While having a dedicated home theater room is nice, if you don't have a whole room, you can make a home theater area in just about any nook. You'll just need to have a few essentials installed, such as room darkening curtains or blinds, a large screen, and some comfortable seating. Visit this article about DIY home theater projects or contact Neighborly to get started.
Unplugged Entertainment
A place to watch movies is a great start to any entertainment room, but when the movie is over, kids will start to get restless. For this reason, it's a great idea to include an area in your entertainment room for other types of activities and games.

For example, consider including a table and chairs for board games or card games, along with a selection of fun games to choose from. You could also include a karaoke machine, dartboard, or even an air hockey or pool table if you've got the room and budget for one. For more ideas about creating a game room everyone will love, check out this article.
Related Topic: How to Finish a Basement.
Soundproofing
Another important thing to consider when planning your entertainment room is noise levels. One of the main benefits of having a dedicated entertainment area is to contain noisy games and play. But this will only work well if you've taken proper steps to soundproof the room. Otherwise, noise will leak through and continue to disturb the adults in the house.

Fortunately, there are a few simple things you can do to soundproof a room, similar to the way you'd soundproof a music room. For example, by simply changing the door to a solid core door and adding some textiles in the right places, you can dampen down noises that may travel through the house. Visit this article for more expert tips on how to soundproof any room in your home.
Plan and Budget Your Entertainment Room
Now that you have some great ideas and information, you've taken your first step toward creating your entertainment room. The next step is to create a plan and budget for your project. Check out the article at this link to get going, and make your ultimate entertainment room project a success!