Music Room Ideas: From Soundproofing to Themed Decor
Are you a musician, vinyl enthusiast, or all-around lover of music? We have the music room ideas to help you enhance practice time, recording, and listening enjoyment – while keeping the peace with your neighbors.
We'll start off with an explanation of how to soundproof a room for music, then move on to design ideas for your music-themed room. Along the way, we'll share how Neighborly® home service experts can offer helpful advice and professional services to take your project from vision to masterpiece.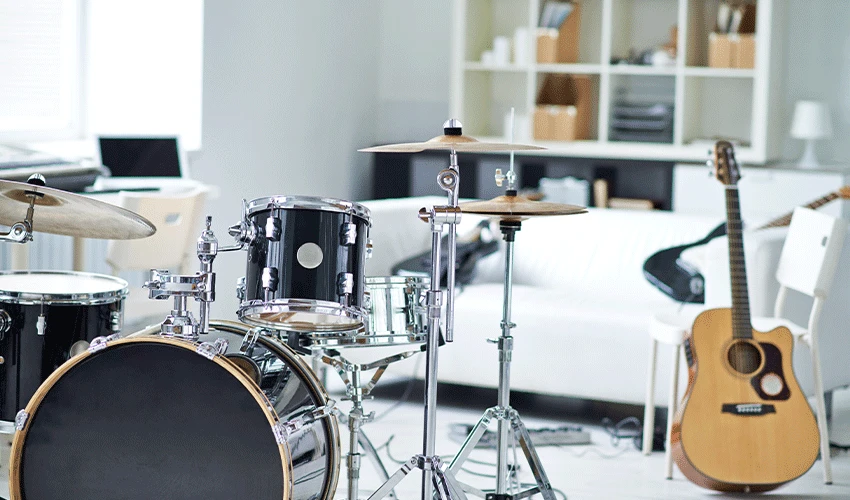 The best music rooms are designed for sound quality. To get premium sound inside and prevent noise transfer to the outside, learn how to soundproof a room for music, below.
Simply choose the methods that work best with your budget:
Replace a hollow door with a solid-core door.
Hollow doors provide minimal sound insulation. A new, solid door will greatly dampen the sound coming in and going out of the room. For the most soundproofing power and improved acoustics, consider going with a fire door. Mr. Handyman®, a Neighborly brand, explains solid vs. hollow-core doors.
Seal cracks around doors and windows.
Fill in the spaces at the edges of walls, ceilings, and floors with noise-proofing sealant. To fix gaps in windows and doors, you can install weather seal strips. Check out these tips from Glass Doctor® about how to seal a window.
Add acoustic panels to the walls.
Acoustic panels dampen sound waves and create better sound isolation for your musical enjoyment. For best results, choose panels that contain fiberglass. Most brands of acoustic panels feature an adhesive on one side, making installation a breeze.
Reduce sound-reflective surfaces by adding soft items.
An easy, relatively inexpensive way to boost soundproofing is adding textured décor to minimize the ricochet effect of sound waves on smooth surfaces. Consider adding a shaggy rug, a textile wall hanging and several potted plants to absorb the extra decibels and make your room look great. Not sure your thumb is green enough to keep plants alive? The Grounds Guys® has tips for indoor plant care.
Add a stone or brick wall facing.
For the ultimate soundproofing technique that also lends an urban feel to your room, install a stone or brick wall facing on one or more walls. The dense facing will absorb and reflect vibrations, enabling you to keep noise at a manageable level.
Once you have the sound in your music room on point, shift your focus to the décor. This is where you can let your love of music shine through.
Hang up vintage instruments.
Vintage instruments can be great decorations in your music room. You can often find broken instruments for free. Stick with a theme – like stringed instruments or woodwinds – or choose an eclectic mix of instruments. Either way, your instruments will be a fun discussion topic for all who enter your space. Add some other charming yet weird home décor, and you'll be grooving.
Want guests to have something fun to do when they visit your music room? Hang an antique washboard on the wall. Anyone can learn to play it – these instructions from Mr. Appliance® make it easy!
Incorporate bright colors that inspire you.
Did you know that vibrant colors stimulate your brain? If you want high-energy jam sessions, red and orange are ideal accent colors. If you are more of an acoustic guitar or classical piano fan, blue is a fitting color choice. Five Star Painting® shares the relationships between personality and color to help you choose the hue that is best for you.
Add lighting in every practice area.
Lighting in your music-themed room serves two primary purposes. It provides functional lighting to help you see the sheet music, your instrument, technology, and albums. It also influences the mood and ambiance. For example, recessed lighting with a dimmer switch allows you to adjust the brightness to get the right vibe.
Other music room ideas for lighting include chandeliers or unique light fixtures, adjustable floor lamps, and task lighting. For practice areas, choose direct overhead lighting. If locally available, Mr. Electric® can expertly install the lighting or outlets you need to support your musical endeavors. Also, if you have a lot of equipment to plug in, follow Rainbow International's dos and don'ts for using extension cords.
Any musician or music enthusiast knows there never seems to be enough space to store all the sheet music, vinyl, equipment, and books. And this stuff is heavy! Sturdy shelving will help you keep your possessions organized and protected. Mr. Handyman is great at building storage or display solutions for various hobby rooms. Check out some of their home organization tips.
Are you ready to rock out in a new music-themed room? To get it built, ask for assistance from the Neighborly family of home service professionals. Our reliable brands provide diverse services like repairs, cleaning, and home improvements. Search here for the local home services you need, or call 1-855-263-6602.