How to Modernize Your Home, Your Way
This collection of modern home ideas will help you make interior updates and renovations that suit your personal style and budget. Start with the six "golden rules," and start planning!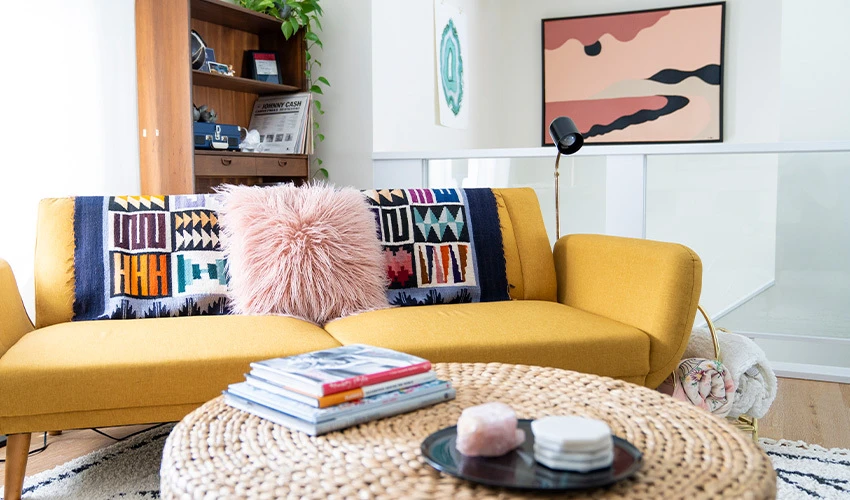 Six Golden Rules to Make Your House More Modern
First, memorize these all-encompassing golden rules for modernizing a home.
Less is more. If every item in your home has a purpose and ample space, the entire place will automatically feel more modern. Start clearing the clutter and extra furniture now!
Choose statement pieces. When deciding how to modernize your home, choose a statement piece for every distinct area.
Focus on light and space. Wherever you can, make your home feel open and bright, rather than closed in. This can mean adding light fixtures or windows, knocking down walls, and more.
Avoid the matchy-matchy. One of the markers of an old-fashioned home is the presence of a lot of matching items. Instead of worrying about matching, focus on expressing your style through your home.
Texturize. Remove dated or traditional patterns in your home, replacing them with textured items that create depth. This can apply to your furniture, art, and more – just not your old popcorn ceiling!
Let colors pop. If you go for a pure-white room with a black countertop, you'll probably miss color in a week. Neutrals and light colors are fabulous, but adding some pops of color brings warmth and personality.
Now it's time to dig into some specific modern home ideas and formulate your plan.
If you decide you need help from local professionals, the family of home service pros at Neighborly® can help! Just search for whatever service you need.
Modern Home Ideas by Category
Furniture and Décor
Don't worry – you probably don't need to replace all your furniture to create a modern feeling.
Some of these updates should do the trick:
Walls, Windows, and Trim
Whether you're wondering how to modernize your home on the cheap or you want to go big, you'll probably want to update your walls.
Explore these options:
Lighting, Plumbing, and Technology
Modernizing a home isn't just about aesthetics; it's about convenience, function, and safety too. You should have it all!
Need a dependable electrician or plumber for some of these tasks? Mr. Electric® and Mr. Rooter® are trusted Neighborly home service brands that may be available near you.
Ceiling and Flooring
The ceiling and flooring are often the most dated parts of a home. Modernize them to achieve the look you want.
Get the Help You Need
It's hard enough deciding how to modernize your home. Then you have to figure out how to make it happen and which service providers you need to hire.
How do you find trustworthy help? Easy. Neighborly will connect you with reliable home service pros right in your neighborhood. Just type in the service you need.