How to Rip Up Carpet to Reveal Hardwood
Hardwood flooring adds character to a home and is a common wish list item for homeowners. But you may be in for a surprise if you live in a carpeted home and want to replace it with hardwood floors, you may already have your dream flooring right under your nose (or rather, toes).
Ready to rip up your carpeting and find out? Read through the following sections for some quick pointers on doing it safely and quickly: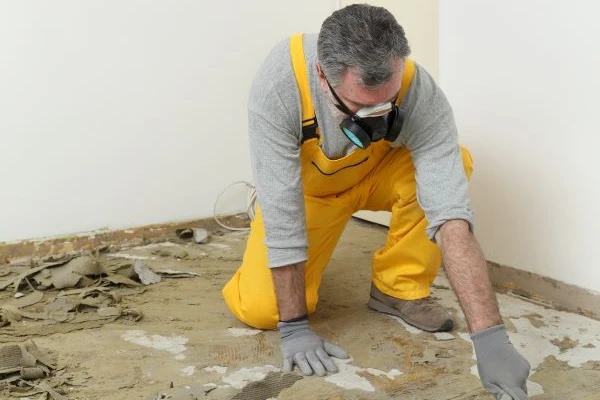 Remove Your Carpet Correctly
Time Required: A few hours to a few days (depending on the pace of work and size of carpeted area)
Materials Needed: Work gloves, utility knife, safety goggles, and a mask
Pulling up carpet is a simple but laborious task. You'll be more successful and less stressed with a little preparation beforehand. Follow these instructions to make your carpet removal go smoothly:
To begin, grab your work gloves, safety goggles, and mask. Work gloves will protect your hands from a variety of issues from carpet tacks to the coarse carpet backing. Removing carpet also creates a lot of dust that can get in your eyes, so we recommend using a mask.
Insert a brand-new blade in your utility knife and start by peeling up a small section of carpet in a corner of the room. This is a low-risk move that lets you easily put your carpet back in place if it turns out you don't have hardwood flooring under the carpet.
If you like what you see underneath and want to continue, you need to remove the furniture from the area. We recommend waiting to move the furniture until this step, as it can be a lot of work for nothing if what's under the carpet isn't to your liking.
Open up the windows. This will help keep dust and carpet particles from accumulating in your home.
Once the furniture has been moved, it's time to start cutting. You can make, make the job more manageable by cutting the carpet into three- or four-foot strips instead of trying to tackle huge chunks all at once.
As you pull up your carpet, roll these small sections and haul them outside. This will help keep your working area clear.
If you have track strips, carefully remove them with a hammer and a small pry bar.
If a tack strip nail breaks off and remains sticking out of the hardwood floor, pull it out carefully with fencing pliers. Make sure to remove these tack strips from your working area as soon as they are pulled up. You can easily hurt yourself on the nails in tack strips when absorbed in another task.
Even with these tips, taking up carpet can be extremely labor intensive. Be prepared to work for a few hours removing carpet, and be ready to sweat! Would you rather have someone else rip up your carpet? Call a professional from Mr. Handyman to help you remove your carpet!
Restore Your Hardwood Floor
Your hardwood is revealed, and it's beautiful – or, at least you think it might've been once! Here are some tips on restoring your hardwood floors to their former glory.
Sweep or vacuum your hardwood floors thoroughly, removing as much dust and loose dirt as possible. Don't forget to keep your windows open while you do this! Wearing a mask may also be helpful.
Clean the floor with a damp mop. Sometimes this is the only step you need to bring your floor back to its original color.
If the floor is in a little worse condition, invest in an at-home restoration kit. You might also need to use a sander to level out uneven surfaces or remove spotty staining.
Use a store -bought solution to help seal and protect your floors. If you're not sure what color to use, you can test different options on a small piece of wood similar to the wood you have on your floor. Or, stain a small patch of the floor to see the color in context. You can always sand that spot down and start again.
Freshen Your Floors
You've ripped up your carpet and restored your beautiful flooring. Now what? While you're on a roll, try freshening up other floors in your home!
For any carpet you've decided to keep, give it a deep clean.
Deep clean the rest of your home with the help of professionals like Molly Maid.
Give your "outdoor flooring" some TLC and give your lawn a fresh cut with help from The Grounds Guys.
Our family of trusted home service professionals is ready to help you tackle any home service project on your list. Click here to explore our brands and schedule your service.