Benefits of Smart Home Security Systems
Smart homes have been a dream for decades, and they're finally here. Today, we've moved well beyond the cumbersome clap-activated lights that dominated the '80s and can tell our home to do things with a simple voice command.
If you're going to make anything "smart" about your home, security is a good place to start. After all, your most precious valuables live in this space – protecting them is your top priority!
Smart home security systems help you keep tabs on your home while you're away, all from the convenience of your smart phone or computer. Use this Neighborly guide to launch your research and choose the best solution for your home.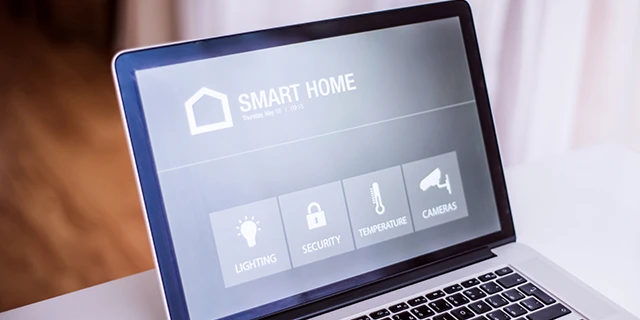 Traditional Home Security vs. DIY Smart Home Security Systems
You're probably familiar with traditional home security systems offered by providers like Vivint or ADT. In the past, a traditional provider would send a technician to your home, install a wired system and enroll you in professional monitoring services.
You can still take advantage of this approach today, but smart technology has changed the game and increased your options. In most cases, you can even set up smart systems yourself! In addition, you serve as the "professional monitor," receiving updates in real-time via your smart devices.
Another thing to keep in mind is that the major providers of home security systems, along with some newer providers that have recently entered the space, offer smart security options. This means that if you want to, you can also receive the professional monitoring services you'd expect from a major security provider, you also receive the personal monitoring advantages of smart systems. These systems do tend to come with a bit of extra cost.
Top Features of Smart Security Systems
Beyond the ability to monitor your system remotely, smart security systems bring a variety of innovations that older security models could not offer. Here are some of the major features and benefits of these systems:
Facial recognition – Many smart home systems allow you to view your kids entering the front door when they get home. However, some systems can distinguish your kids' from the friends they bring with them. Schedule this feature to ensure your "faces" get home safely!
Doorbell camera – If you're more apt to get the door for the neighborhood kids than the door-to-door salesman, a doorbell camera might be for you. You don't have to be close by to see who's there – you'll receive an alert and often a video recording directly to your phone. These cameras can also help you prevent package theft during busy delivery seasons.
Smart locks – Everyone forgets to lock the door behind them from time to time. Now, if you're already sitting comfortably on the couch, you can lock it from your phone. You can even schedule your smart system to lock your doors at a certain time each day. Some smart locks can be put on a timer and will activate automatically if left unlocked for long enough.
Mobile alerts – Smart systems allow you to set up alerts for almost anything. Get notified when someone opens a door or window, when someone steps on your porch, or when motion is detected in the backyard.
360 views – If you've ever felt limited by the mobility range of a security camera, you now have something smarter! Many wireless cameras offer 360-degree coverage, so no corner is left unmonitored.
Night vision recording – With a smart security system, you'll sleep more easily knowing your security system won't be sleeping! Night vision recording allows you to check on your home even in the darkest times of night.
Remote accessibility – Forgot to arm the house? No problem. Like your locks, smart systems allow you to "arm" from anywhere. This is also great if you're prone to leaving your keys in the house.
It's time to get smart about home security! We hope this guide equips you with confidence in your research and buying decision.
Our helpful tips and tricks extend to our Neighborly home service professionals.
Looking for more on this topic? Check out these additional articles: