How to Finish a Basement—All the Steps, Explained
These are the basic steps to follow as you finish your basement:
Declutter
Get permits
Gather tools and supplies
Test for radon, mold and moisture
Hire professionals, if needed
Assess HVAC needs
Frame and insulate
Repair or install electrical systems
Install plumbing
Finish the walls
Install the ceiling
Install or finish flooring
Paint, decorate and put on the finishing touches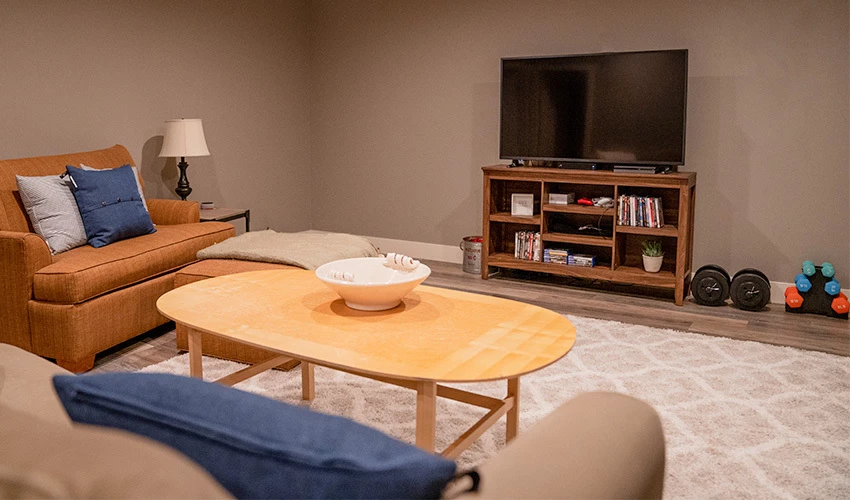 Let's dig into the details about how to finish a basement. Then we'll explore some inspirational finished basement ideas.
Steps to Finishing a Basement
Assess the state of your current basement, and figure out what you can change without major remodeling. Check the state of the windows, insulation, electrical wiring and any plumbing. Make a step-by-step plan that includes the following guidelines.
Preparing to Finish Your Basement
Declutter. Chances are you've been storing neglected items in your basement for years. There may be a lot more stuff down there than you realize! Time to put on some gloves and start sorting to make room for your renovation project.
Get construction permits. The process of getting a construction permit varies by area. Contact your city government to learn how to apply for a permit. You'll need to prepare a site plan, get quotes from home service providers and obtain proper approval before you can start construction. Consider hiring an architect for help drafting the plan.
Gather tools and supplies. If you're planning on doing any of the construction yourself, do your research and make friends with the people at your local hardware store. Ask yourself if a DIY approach is smart and frugal, or if it will sacrifice quality and safety for the sake of saving money. The answer might depend on how much time you can put into this project.
Test for radon, mold and moisture. Contact Rainbow International® to address water damage and mold. If you struggle with water in your basement, install a sump pump. If necessary, invest in a good dehumidifier too.
Find professionals to help you. Mr. Handyman's® basement services are an excellent place to start! Consider your local Mr. Electric® for electrical services and Mr. Rooter® for plumbing. These Neighbourly® pros can bring your basement finishing ideas to life!
Assess your heating and cooling (HVAC) needs. If you need help with updating your HVAC system for your finished basement, consider Aire Serv's® specialized services.
The Main Event: How to Finish a Basement
Now that the planning and inspecting is complete and your permit is approved, it's time to start the work.
Frame and insulate. Note any valves, pipes or ducts, and plan your wall framing around that. You'll need access to these items in the future. Make sure your egress windows and well covers are in good shape – your building inspector will tell you if you need to install egress windows for fire safety.
Repair or install electrical systems. Depending on how you want to use the space, you may need to do a fair amount of electrical work. If you're not an electrical pro, Mr. Electric can take care of the electrical work, including lighting installation.
Install plumbing. Adding a bathroom to your basement can significantly increase your house's value. Or you may want a work sink or kitchenette plumbing. Contact Mr. Rooter for professional plumbing assistance.
Finish the walls. First, address any moisture problems you detected in the planning stage. If you need to redirect any gutters or waterproof the exterior of your house, do so now. Seal your concrete or masonry walls with a roll-on waterproofing product, and let it dry. Then add blocking between the joists and install foam board on your wall framing. Build your walls laid out on the floor, and lift them into place.
Install the ceiling. Consider options for ceiling types, and plan around any lighting units on the ceiling. Choose between paint, panels, fabric or a drop ceiling. If you can't avoid exposed pipes and ductwork, paint the ceiling and pipes the same colour to camouflage those features.
Install or finish flooring. Seal and patch up your cement floor with elastomeric sealant. Inspect the floor, and resolve any slopes or unevenness with professional help. Choose a sturdy, practical flooring that can withstand moisture. Popular basement flooring includes carpeting, vinyl flooring, engineered wood, tile or laminate. If the basement will be a workshop, consider simply painting or tinting the existing concrete.
Paint, decorate and put on the finishing touches. Lighter, neutral colours can open up the space visually, especially if your basement windows are on the smaller side. If painting feels like a hassle, let Five Star Painting® apply the finishing touches to your basement. If this will be a social space, be creative while choosing attractive lighting fixtures or whimsical wall art.
Finished Basement Ideas
A basement can be for so much more than storage. Finishing your basement can allow you to fulfill your own wish list – like having a peaceful workspace.
Here are some of our favorite finished basement ideas:
Whatever your dream basement looks like, Neighbourly is here to help with our roster of diverse, expert home service brands. Search for local home services today!