DIY Home Theater
Cold, rainy days are perfect for movies, but not always perfect for driving to the theater.
On those days, bring the theater to you! You don't necessarily need to invest in fancy gadgets. Make any room feel like movie magic with these do-it-yourself tips.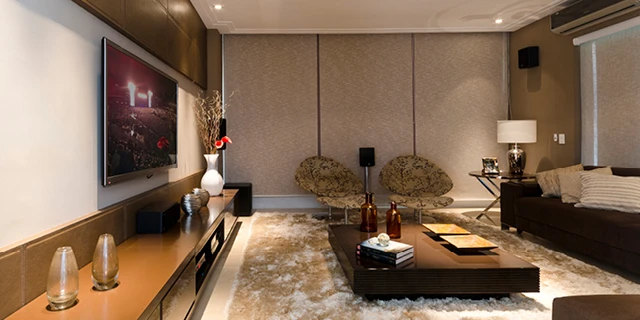 Do-It-Yourself with Six "S's"
Space: Determine which room of your home you'd like to call your "theater." You may decide to dedicate an entire room to movies, or you may want to make movie-like enhancements to a living room or game room. Assess your space and the kind of investment you'd like to make.
Screen: While your screen likely won't compare in size to movie theater screens, you can still bring a beautiful viewing experience into your home. Consider mounting your TV to a wall for optimal viewing for all guests. You may decide to invest in a big screen while you're at it! If you're using a projector, use a light-coloured wall space or white sheet for your screen.
Speakers: To truly capture the movie-going experience, you won't want to rely on your TV's built-in speakers alone. Invest in surround sound to bring your movies to life. Customize your system piece-by-piece, or opt for a simpler, pre-matched system.
Seating: Say goodbye to tiny seats and nestling up next to your neighbour! (Unless you want to, of course!) At home, you can be sure there are plenty of seating options, from comfy couches, to relaxing recliners, to luxurious entertainment seating made for home theater rooms. For a cozier atmosphere, lay out several pillows and blankets on the floor. This is especially great for the kids!
Sunlight: There's a place for natural light in your home, but it's not your theater room. Mount blinds, or hang some thick, dark curtains, (blackout curtains are best, if you prefer!) to minimize unwanted light causing glare on your screen.
Snacks: A trip to the movies isn't complete without candy and popcorn! Consider adding a snack bar stocked with your favourite items. Don't forget an old-fashioned popcorn machine!
Don't sacrifice the theater experience you love on dreary days! With these tips and tricks, you might never feel the need to invest in overpriced tickets and popcorn again.
Our Neighbourly brands are the caretakers of homes. From installing your sound system to cleaning your movie theater for guests, our community of home service experts have you covered for this project and any project. Visit Neighborly.com/ca to find a professional in your neighbourhood.