Smart Home Technology in the Kitchen - Cool Cooking Gadgets
"Will someone set a timer for 20 minutes? My hands are messy!" You're already busy, so every minute in the kitchen matters.
If no one can come to your rescue when your hands are tied, products like Amazon's Alexa can help. A "smart assistant" will recognize your voice and happily set your timer for you.
Smart technology for the home is revolutionizing the way we live. We have devices that control our lights, locks, thermostat, and more, all with the touch of a button or the sound of our voice.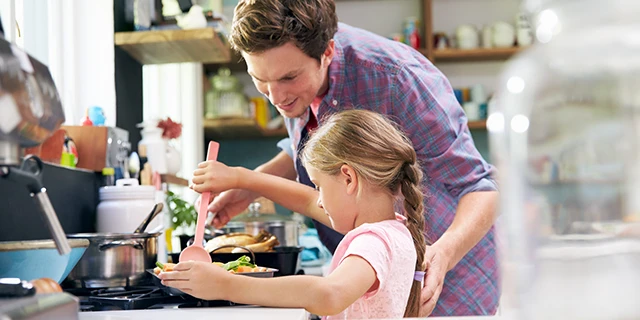 If the kitchen is your 'happy place,' check out a few of our favorite gadgets to help you spend time in this room more efficiently.
Seven Gadgets to Make Your Kitchen Smarter
Smart Refrigerator – Refrigerators these days do a whole lot more than "run!" With smart technology, you can dispense hot water, brew your Keurig K-Cups, plan your grocery shopping trips, and stream music. Click to find out if a fancy fridge is right for your home!
Smart Slow Cooker – Good things take time! With a smart slow cooker, you can adjust your dinner from a distance with a smartphone app, so it's ready when you walk in the door. Talk about efficiency!
Smart Coffee Maker – If you're a serial "snoozer," a smart coffee maker is for you. Schedule your cup of coffee to be ready the moment you wake up. Some models even have the capability to connect with Alexa and other hubs. Learn more about smart home hubs here!
Smart Sous-Vide – Not feeling the slow cooker tonight? Use your smart sous vide to perfectly cook chicken, steak, salmon, and more, all from your smartphone. Bon appétit!
Smart Scale – Measuring ingredients can slow you down. Remove the guesswork with a connected kitchen scale! View portion sizes on your smart device and links your favorite recipes.
Smart Refrigerator Camera – If you're not ready to invest in a smart refrigerator, consider a smart camera. If you're at the store without a shopping list, you can view your refrigerator contents from your phone!
Smart Button – Are you running low on water bottles or snacks for the kids? Use Amazon Dash smart buttons to order them from the convenience of your kitchen.
Your kitchen looks smarter already! With the holiday season fast approaching, consider one of these gadgets for the chef, baker, or busy parent in your life.
From equipping your kitchen to handle these gadgets to helping repair and maintain the gadgets themselves, we've got the experts to care for your technology-driven home. Explore our entire family of Neighborly service brands on our home page.