Do You Need a Fancy Refrigerator?
"Is your refrigerator running? You'd better go catch it!" Corny jokes aside, refrigerators these days do a whole lot more than "run." More likely than not, your daily routine involves some kind of smart device: a smartphone, smart TV, smart home security system, you name it! Now, even your refrigerator can be "smart." The question is – do you actually need a fancy refrigerator?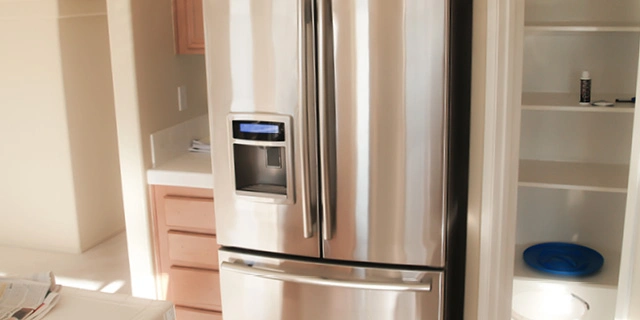 Before revealing Neighborly's take on this question, take a look at some of the newest features high-end refrigerators have to offer:
Dual evaporators – Dual evaporators are extremely advantageous when it comes to maintaining steady temperatures and humidity levels. This helps food stay fresher longer and reduces the potential for freezer burn. In addition, this feature also increases the energy efficiency of your appliance!
Hot water dispenser – High-end refrigerators often have a hot water dispenser, allowing for easy hot food and drink preparation. The dispenser is connected to the water line, so you'll never have to refill a reservoir.
Keurig K-Cup brewing – In addition to the hot water dispenser, many modern refrigerators have Kuerig K-cup compatibility, giving you the convenience of a single serving of coffee at your refrigerator. Fill up your child's water bottle and your morning cup of joe all in the same step!
Adjustable temperature drawers – With the ability to adjust the temperature of specific drawers in your refrigerator, you'll have ultimate control over your food preservation efforts. In some models, you can even determine whether a drawer acts as a refrigerator or a freezer with a touch of a button!
Customizable shelves/bins - Just like you can change the temperature, you can also customize the height and depth of shelves and bins to accommodate items of all shapes and sizes. This comes in handy when you're the one hosting Thanksgiving dinner!
French doors – While this isn't necessarily a new feature, it's stuck around for good reason. French door refrigerators are extremely popular because as opposed to side-by-side models, your fresh food is mostly at eye level. However, you'll have to compromise with the freezer, where food must be stacked in the drawer below.
Autofill pitcher dock – Do you enjoy getting your filtered water from a pitcher? This feature is for you. New models have self-filling technology, meaning that when you place the pitcher back on the magnetic "dock," it will automatically refill. The best part? It's programmed not to overflow when doing so!
Pizza pocket – The pizza pocket is easily the most fun feature to grace the list and helps remedy the bottom freezer drawer organization problem. This pocket keeps frozen pizzas organized and out of the way for other foods to fit nicely in your freezer!
You may have one or two features in mind that you can envision in your own kitchen. Did you know that in addition to these features, there are actual "smart" refrigerators on the market with their own "smart" features? Here's a rundown on one brand's smart refrigerator:
"It's more than a fridge – it's a family hub." Like a smart phone or smart TV, Samsung's FamilyHub appliance integrates your existing technology to help you live your smartest life. Check out just a few of the "smart" features, common among most smart refrigerator models:
Interactive shopping lists: Discover you need milk but your husband just left on a grocery run? Update the shopping list from your refrigerator and he will receive the update on his phone instantly. You can even order groceries from the appliance itself!
Family scheduling: With this feature, you can integrate family schedules and share photos and messages. Who knew you could keep connected with your family using the same appliance you store your food?
Music streaming: Access your Pandora, Spotify and iHeartRadio accounts in your kitchen with the touch of a button. Bake cookies and have a dance party with the kids!
The Neighborly verdict? While fancy refrigerators boast state-of-the-art features and an obvious "cool" factor, they probably aren't a necessity. At the end of the day, these features come with a price tag, and it's ultimately your decision as to which features you feel are worth forking over the cash.
Ready to discover more home advice from Neighborly? Explore the rest of our blogs!