Choose the Best Smart Home Hub for Your Lifestyle
Choosing smart technology, particularly "hubs" for your home, isn't exactly intuitive. With a wide variety of options on the market, sifting through them to find the best fit for your home can be overwhelming.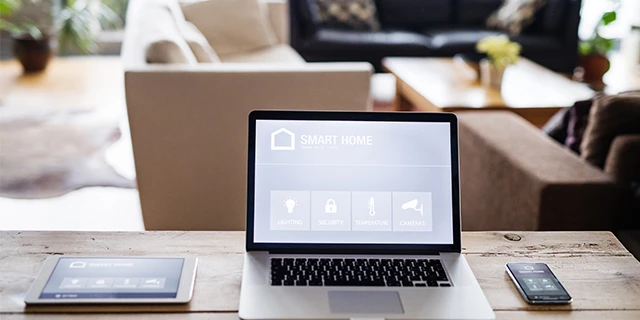 So, we're happy to do some of the leg work for you! Use this guide to compare your options and make the best choice for your lifestyle.
What Is a Smart Home Hub?
Smart home hubs and systems are central units that control everything in your home, from lights and locks to thermostats and sound systems. If it's "smart," it's probably compatible with a smart home hub. With the increasing prevalence of smart devices in our homes – like TVs, appliances, ceiling fans, home security devices, lights, home theater, water heaters and thermostats, to name a few – it's becoming more appealing (and often necessary) to consolidate and manage them with a single device
Considerations
Before purchasing a smart home hub, it's important to identify what you're looking for in this kind of device.
Capability – Do you want to activate the hub with your voice? Are you willing to download another app to manage the hub? As you compare your options, look at the hub capabilities and determine what's important to you.
Compatibility – Do you already have an Amazon device you'd like to connect with the hub? Some hubs work with Alexa and some don't. In addition, some hubs can connect more devices than others.
Cost – There are vast differences in pricing when it comes to these systems. Of course, the higher the price, the more features you'll likely receive. Compare your options and determine the amount you're willing to invest in a hub.
Popular Hubs on the Market
Samsung SmartThings – This hub helps you "Add a little smartness to your things." One great feature is the ability to set "scenes" and "rules." For example, some users set a "Goodnight" scene in their SmartThings app that turns off lights and lowers the thermostat at the same time each night. This hub is also compatible with a wide range of smart devices.
Amazon Echo Plus – Unlike the original Echo, the Amazon Echo Plus includes a built-in ZigBee hub, which allows you to connect smart home devices connect to your network without a bridge. Plus, Echo devices have fantastic dual speakers – perfect for jammin' at your next family gathering!
Amazon Echo Dot – This hub allows you to dabble in smart home technology without a large investment right off the bat. This mini hub is pretty powerful and half the price of other hubs on the market. However, you'll have more limited sound and compatibility with this hub.
Google Home – While similar to other hubs on the market, Google Home has obvious Google-integration advantages. Sync your Google calendars, reminders, Chromecast and more. In addition, use Google Assistant to search the web using just your voice.
Wink Hub 2 – The Wink Hub 2 is another great smart home hub for beginners. Because it's compatible with more than just Z-Wave and Zigbee, it appears to support more smart home technology than any other hub. Plus, both the hub and app are beautiful and easy to use!
We hope this guide serves as a springboard for your home hub search. Each option described here is a great one, but it's important to identify the one that's right for your home and your family's needs.
If you're having problems with your smart home appliances or are looking into smart home hub professional installation, , we have a trusted professional that can help. Explore our entire family of brands on our website.