Smart Doorbells Are Cool Doorbells
Whether you've waited to jump on the smart home bandwagon or simply haven't gotten around to choosing which one, a smart doorbell is a great investment, providing both insight and peace of mind no matter where you are in the world. Check out popular features and pick your favorites.
Smart doorbell features
With a variety of brands to choose from, smart doorbell shopping can feel overwhelming. Familiarize yourself with common features so you can craft your wish list and choose the best device for you.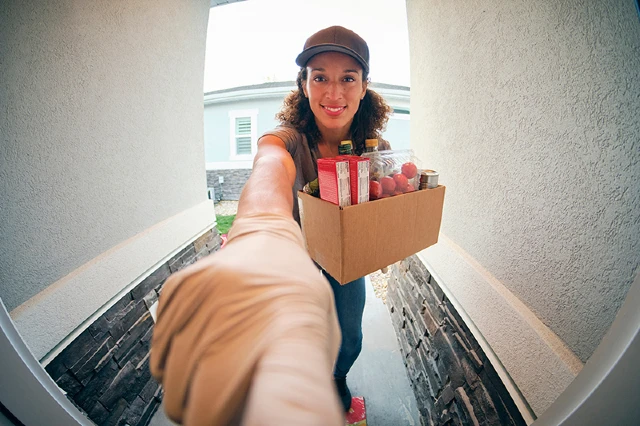 Video recording – This feature is smart doorbell table stakes. It allows you to see who's at or been to your door anytime, anywhere, all from the convenience of a smartphone app.
Stream live footage – Check on your front porch in real-time!
Auto-monitoring – Monitor your package deliveries with ease. You'll receive a notification and recording when a person has been to your door, so you'll know if a package is dropped off or you'll have evidence if a "porch pirate" messes with your new stuff before you get to it.
Two-way communication – Tell the door-to-door salesman you're not interested from the comfort of your couch!
Integration/compatibility with other smart devices – Own other smart devices? Link them with your smart doorbell and make your life even easier. Connect your smart doorbell with your smart door-lock, your voice-activated home assistant, your smart TV, and more!
Wide-angle lens – This feature allows you to see everything and everyone. The wider the lens, the greater the field of view you can capture.
Night vision – Porch pirates aren't afraid of the dark! This feature allows you to have better visibility when the sun comes down.
Motion sensors – Your app can provide alerts when the device detects motion, big or small. Look for a doorbell that gives you control over the size, shape, and sensitivity of the area it monitors. Some will allow you to filter for specific objects (i.e. people vs. animals or vehicles), helping you to specify the types of notifications you want to receive.
Wired vs. wireless – Wireless is a great option for renters or if you don't have or want to run any wiring inside your walls. Wired makes more sense for homeowners and may require professional help for installation.
Local storage vs. cloud storage – For a fee, you can store saved footage in the cloud as opposed to the device itself. The device storage is usually very limited, so for those who need to keep their recordings for extended time, cloud storage gives you that option.
Protect your home
Smart doorbell? Check. Now, further, protect your home and loved ones inside. Check out a few Neighborly ideas.
You're one step closer to owning the coolest doorbell on the block! Have a home maintenance task on your to-do list? We have trusted professionals who can help with any home maintenance need. Visit our home page to explore our brands and schedule service with a local pro.
Related Content
Do You Already Have a Smart Home?