Privacy Ideas: Between Houses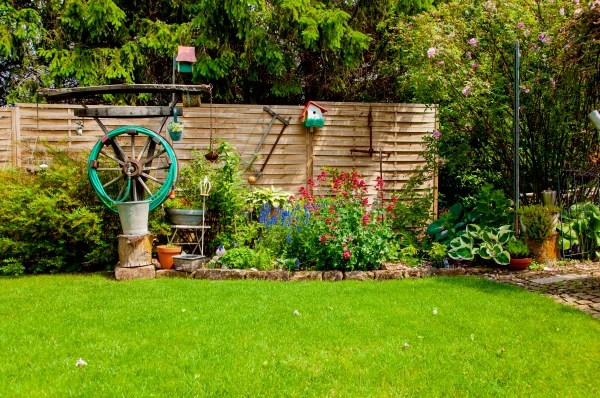 Even if you have a fantastic relationship with your neighbors, their house might seem too close for comfort. Do you think they know what all your pajamas look like? Was that Karen's sneeze you just heard? You can do something about this uncomfortable closeness and turn your yard and house into a haven.
Here are some ways to create privacy between houses:
Transform your landscaping with the right hedges, trees, and tall plants.
Install attractive privacy fencing.
Build privacy panels. These are like architectural room dividers but outdoors!
Add a roof or pergola to your deck or patio, shielding neighbors' views from second-story windows.
Add stylish window treatments like curtains, blinds, and window films.
Improve your home's soundproofing, and introduce tranquil sounds by adding a water feature.
Learn how to make these privacy solutions a reality and beautify your home at the same time.
Ideal Privacy Landscaping Between Houses
If you have a few yards of space between your house and the neighbors, check out these landscape ideas for privacy between houses. Just remember to choose plants that are compatible with your planting zone, and consider getting help from a professional landscaping team who can plant and maintain everything for you.
If you don't have a fence, you can plant shrubs or hedges to create a natural one. Evergreens stay lovely all year long. Some low-maintenance options are boxwoods, junipers, yews, and arborvitae – but avoid arborvitae if you're planting hedges near a pool. If you're interested in flowering shrubs rather than evergreens, opt for a native shrub from a local nursery, such as viburnum. While slow-spreading bamboo is not necessarily a shrub, it's also an attractive option for creating a wall-like effect.
If you already have a slatted fence or another type of see-through barrier, plant some vines at the base and watch them climb up to create gorgeous screens! Some of the best vines for privacy between houses are climbing hydrangea, honeysuckle, and wisteria.
Finally, consider trees and flowers to fill in the upper and lower tiers of your landscaping design. Know the dos and don'ts of tree planting before you get started.
Fencing, Panels, and Pergolas
Wondering what type of fence to put up? Consider wood, sandblasted glass, or thick lattice if you want something solid. For a lighter look, consider bamboo fencing or slatted composite fencing. If a whole fence feels like overkill, install some tall privacy panels next to gathering areas like your patio or deck.
Don't forget about neighbors' views from upper-story windows. They might see you chilling on the patio from up there, even if you have a fence. The best solution for this is to build a pergola or a roof structure over areas of concern.
Lean on a team like Mr. Handyman for privacy panel and fence installation services, as well as other carpentry and building projects. They're a reliable Neighborly brand with a knack for all things handy.
Related Topic: Easy but Lovely Front Yard Patio Ideas
Window Treatments
Various styles of curtains and blinds are the obvious house privacy ideas. But have you considered house window tinting for privacy? You might be imagining a dark tint like you see on car windows, but really there are many, many options for window tints and films, including decorative films that bring beauty and privacy together.
If you're wondering how to tint windows for house privacy, the best first step is consulting a window film professional like Window Genie. They'll walk you through all potential options and install your chosen film for a long-lasting finish.
Soundproofing and Sound Cloaking
When you can hear your neighbors, and vice versa, it only amplifies your awareness of how little privacy you may have. Incorporating a few soundproofing solutions, such as these, will amp up the secluded coziness of your home:
Acoustic panels on interior walls
Sound "cloaking" solutions, like a bubbling fountain or trees with rustling leaves
Check out these additional ideas for soundproofing, which have the bonus of reducing traffic noise.
Get More Help Improving Privacy Between Houses
Whatever privacy solutions you choose, the Neighborly family of trusted home service professionals are ready to assist you. Our devoted home service experts can help save you time and energy by taking care of most, or all of your home improvement projects. From plumbing and electric, to renovations and windows there is a reliable Neighborly home service expert to help you get it done! We also have cleaning pros that can keep your home looking good inside, and out so you have more time to do the things you really enjoy. Search for our local Neighborly home service pros to get started.