Swimming Pool Privacy Ideas: From Plants to Fencing
Do you ever feel like your pool isn't as private as you'd like? Whether you're a fan of sunbathing, soaking in the hot tub, or swimming laps, having privacy by your pool feels good. And thanks to innovations in landscaping and fencing, you can get the privacy you crave without having to sacrifice visual appeal.
If you're looking to make your swimming pool space a bit more personal, then these swimming pool privacy ideas will help you complete your backyard paradise.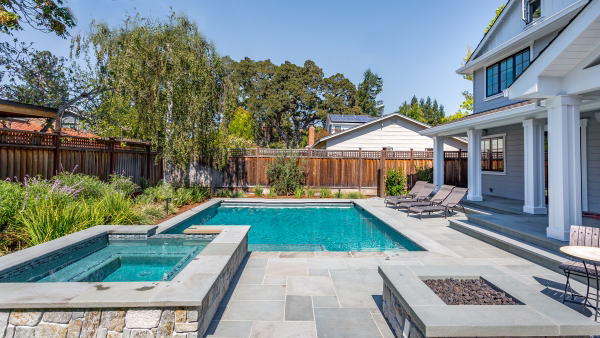 Pool Fencing Ideas for Privacy
A pool fence is the most obvious solution. But what kind should you pick? Solid wood, faux stone, and thick lattice pool fences are good options if you want no chance of someone peeping on you. But if your pool area isn't very large, these fences can crowd the space and create a lot of unwanted visual noise.
Fortunately, there are a lot of less obtrusive options. Pool fences with an interesting texture like small holes, rolled bamboo fencing, artistic/sculptural panels, or weatherproof composite fencing with close-together slats are all great options. For a movable solution that can still look good, purchase portable privacy screens that can be staked down.
Installing a permanent fence can get tricky, depending on your property. If you want a permanent fence and aren't one for DIY projects, consider, hiring a trusted team like Mr. Handyman for reliable fencing installation services.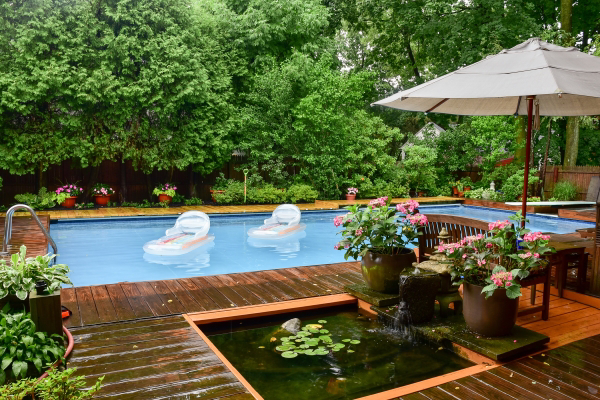 Pool Landscaping Ideas for Privacy
What's a pool paradise without plants? Below are some of the best pool landscaping ideas for privacy:
Try a vine — Vining plants make privacy look so pretty! Some plant options we love are climbing hydrangea, clematis, wisteria, and honeysuckle. Check your planting zone to see what species will work best, and try to plant a native vine rather than an invasive one.
Choose evergreens — Boxwoods, laurels, yews, and junipers can all be great for an evergreen privacy screen. Spend some time determining which shrubs will do best in your climate. Avoid arborvitae, as it's too messy for poolside.
Do bamboo — In some climates, bamboo is a fabulous pool landscaping idea for privacy. But some varieties grow out of control, and others are messy. Choose a clustering bamboo that's slow spreading, and make sure it's at least 10 feet from the pool.
Fawn over flowers — There are many flowering shrubs that, if pruned correctly, can create gorgeous hedges. Abelia, privet, and viburnum are some lovely possibilities that can increase your sense of security while beautifying your poolside.
Go faux — Fake hedges and vines can be extremely convincing these days. If maintenance isn't your thing, a faux-plant privacy solution may be the best pool "landscaping" idea for you.
Need help with designing, planting, and maintaining the landscaping? We highly recommend The Grounds Guys, who specialize in all of the above – and more!
Structures and Hardscaping Around the Pool
While it might be expensive, building a structure like a gazebo is a great way to add privacy and creates a new social space. If a large structure like this isn't in the budget, consider combining your landscaping and fencing with some hardscaping features.
What kind of hardscaping? Low stone walls and an outdoor fireplace look chic and provide privacy too – especially when combined with strategic landscaping. A wide fountain creates visual privacy and helps block out exterior noise at the same time.
Enjoy Your Yard to the Fullest
Did these pool privacy ideas get your gears turning? Think of all you could do with a bit more seclusion. You could throw an outdoor dinner party or install a cool outdoor shower. You could wear your ugliest pajamas outside!
From landscaping to mosquito control to building a pool deck, the Neighborly® family of home service pros will help you love your home inside and out. Book by searching for local services here or calling 855-217-8437.