Easy but Lovely Front Yard Patio Ideas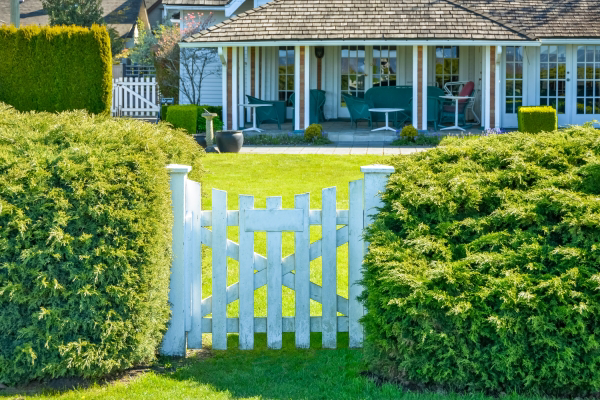 Your front yard provides the first impression that your guests, neighbors, and friends will get from your home. It also contributes to curb appeal and overall home value. So if you want to add a patio to your front yard, you should make sure it looks great and positively impacts the value of your property.
Front yard patio designs should allow for optimal privacy, comfort, and style. Here are some easy front yard patio ideas for your home, organized by those three important criteria:
Patio Privacy Ideas
Privacy is an important part of any good front yard patio. Unlike in a backyard, privacy isn't as much of a given in front of your house. So, you need to incorporate it into the design of your front yard patio. Thankfully, there are plenty of ways that you can add privacy to your patio without taking away its appeal.
A few great ways to add security include:
Privacy screens
Landscaping
Hardscaping
Fencing
Don't worry about fully enclosing it. A short length of your chosen privacy solution may provide enough privacy and intimacy. For example, place a tall, faux boxwood hedge wall on the most neighbor-exposed side of your patio, and put a cute bench below it. Add a short fence on the opposite side, and plant shrubs for a café-like, self-contained feeling.
If you really want to nail the privacy factor, hire experienced pros like those in the Neighborly® family: Check if there's a local The Grounds Guys® to provide awesome landscaping and hardscaping, and look to Mr. Handyman® for fencing installation.
Patio Comfort Ideas
When brainstorming front yard patio ideas, prioritize comfort. First, choose seating for diverse purposes. For example, that cute bench we just mentioned is a good spot to sit and put on your running shoes. The other side may be dedicated to enjoying meals and relaxing on outdoor lounge furniture.
Lighting is important for comfort too. Make sure you have pathway lighting to make it safer to walk at night. Attractive solar lighting is an easy choice, or you can install an outdoor outlet and hang string lights or lanterns for perfect summer evening ambience. Our friends at Mr. Electric® can help with all those options. Want to avoid bugs? Stick to dim lighting, add some citronella oil lamps, or call in the professionals at Mosquito Joe® and get a professional mosquito treatment.
Shade is another key to a relaxing front yard patio. If there are no trees nearby, consider canvas shade sails or a pergola structure. Plant a couple of lovely shade trees for future comfort (and immediate beauty).
Patio Style Ideas
Hit up Pinterest and your other favorite sources to look at images of front yard patio designs, paying special attention to the small style details that make you smile. Then follow these steps to round out your front yard patio ideas:
Location — Position your patio to be cohesive with existing sidewalks and your driveway. All the pathways should flow naturally.
Pick a shape — Depending on purpose, make your patio a square/rectangle, a circle/oval or a more irregular shape. For example, you may want one area for seats and a fire pit, and one area for a fountain or bold planter. Make sure to consider the overall appearance of your home and yard before choosing a shape.
Choose the masonry — Select stones, bricks, tiles or pavers to make your patio a patio! Masonry colors should complement your house's siding and trim, as well as your patio furniture.
Control color — Limit yourself to a few pops of color – like blue chairs and a bed of yellow flowers. If your siding is brightly colored, consider muted colors for the patio. Think about painting your front door to tie it into the patio color scheme.
Protect wood — If you don't protect your patio's wooden structures, it will turn ugly fast. From retaining walls to pergolas, know how to properly seal, paint or stain the wood. The professionals at Five Star Painting® can help you with any painting project. We also recommend having your gutters cleaned to avoid water damage to the patio area — a job that Window Genie® can easily handle.
Add more décor — Add the finishing touches like tabletop decorations, a colorful flag, and a classy or quirky lawn ornament. A few simple objects can add a lot of personality.
Bring Your Front Yard Patio Ideas to Life
If you need help with any part of your patio project, look to the Neighborly family of home service pros. Search for local services here, or call us at 855-263-6602.