How to Make a New House Feel Like Home
So, you bought a new house. You moved in, but you haven't moved on from your old home. Maybe you love the new house, but for some reason it doesn't feel like yours yet. You might even feel sad about your new house. These feelings are completely normal, and adjusting to a new residence takes time.
To make the transition a little easier, we've assembled some tips to help make a new house feel like home.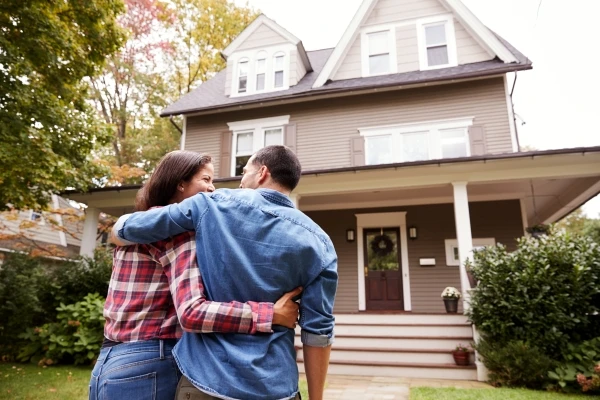 Small Updates to Make a House a Home
These five ideas might seem small, but they can have a big impact on you feeling more comfortable in a new home:
Make "landing pads" for your daily routines: Where do you put your keys when you get home? How about your shoes, mail, coats, and handbags? Where do your kids drop their backpacks? Items that you interact with daily need a designated "landing pad" (sometimes called a "drop zone"). Identify where you may need to add drawer or counter organizers, baskets, shelves, and/or wall hooks to create these essential landing spots. Giving your frequently used items a permanent spot will help create routines that make you feel more at home.
Set up comforting sights, sounds, and smells: A new house usually doesn't feel like home right away but adding familiar sights and sounds to it can help. Put that family-heirloom clock on the mantel. Hang your photos and art while listening to your favorite music. Lighting a familiar scented candle or the fireplace to create sense memory links between your old home and your new one.
Add a new feature to call your own: One sure way to make a new house feel more like a home is to add new features that are all yours. Adding fresh paint, new window coverings, light fixtures, or even a landscape feature, such as installing a pond, are great ways to give your home a unique personal touch.
Dive into deep cleaning: Unfamiliar odors and puzzling stains in your house are reminders that someone else lived there, so it's essential to eliminate these with a good, thorough cleaning. Of course, you're busy with moving and setup tasks, so consider hiring a professional cleaning service to get your new home in order. Having your new home professionally cleaned can help make the space feel more inviting.
Do soothing chores: Even if you normally don't enjoy chores, there's something calming about staying in a routine. If you cook a meal as a family or do a few loads of laundry, you'll likely start feeling more at home as you complete routine daily tasks. For peace of mind, and to ensure a smooth transition to your new home, be sure all your appliances are in good working order. If you need to repair the appliances or install new ones altogether, connect with a local appliance repair and installation expert for any repairs, and schedule a maintenance plan to keep them running smoothly throughout the year.
Larger Upgrades for Extra Homeyness
Ready to really turn your new house into a home? Move beyond the simple stuff, and consider these bigger renovations:
Cozy up. You can never have enough cozy spaces for that hygge feeling. Relaxation areas can help make any new house feel like home. We've put together a lot of ideas for creating the coziest corners ever:
Modernize the design style: If you purchased an older, somewhat dated home, some of its features may not quite fit your preferences, lifestyle, or personality. Maybe it has old-style hardware, too many walls, or peeling wallpaper. Whatever it is, try out these tips for modernizing the space.
Upgrade the shower: Never underestimate the power of installing an amazing new shower and/or tub. Two spectacular options for upgrading your showering experience are adding a custom glass shower/bath enclosure and installing a new water softener.
How to Feel More Secure in a New House
What's more important than being safe and secure in your own home? Not much. That's why many homeowners do these tasks shortly after they get the keys to their new castle:
Get the Help You Need
With all this change you're going through with the new house, you need something constant and reliable. The Neighborly family of experts is available to help you with your home repairs, upgrades, and maintenance whenever you need it. Request an estimate online or call 855-217-8437 to get a helping hand.