Home Staging Tips to Get It Sold
When interviewing for a job, you put your very best foot forward. Similarly, when your home is being "interviewed" by potential buyers, you'll want to make sure it's prepped and dressed for success.
Staging your home is a crucial step in selling it quickly. Use these simple tips to streamline the process.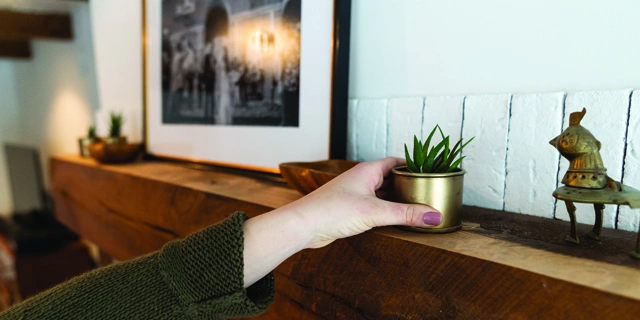 The Most Important First Step
If clutter in your home drives you crazy, it's likely just as bothersome to a potential homeowner. That's why cleaning, organizing, throwing things away and decluttering are essential first steps in the selling process. Think of it this way – the more easily a potential owner can envision themselves living in your home, the more likely they'll be to make the offer.
Decluttering can seem like a daunting task, but it doesn't have to be. Start by creating piles of items you want to keep, throw away/recycle, sell, or relocate. Once you've purged your stuff, you'll have room to breathe and clarity on how best to stage your home. Don't forget a deep, whole-house clean when you're finished!
Stage Your Home Like the Pros
Ready to "set the stage?" Refer to these tips to get started.
If you're feeling overwhelmed indoors, focus on the bedroom, living room and kitchen first. These are often "make or break" spaces for house hunters. They're also looking for storage space – display the space you have and create space you don't!
Remove personal items but keep some "homey" touches. It's a delicate balance! Do your best to maintain a "lived-in" look, while giving the potential buyer space to envision their personal items on the shelves and their family photos on the wall.
Just because that chair has lived in your living room since you moved in doesn't mean it couldn't be used to stage your master bedroom. Look at your existing furniture with fresh eyes and use extra furniture to help create purpose in near-empty rooms.
Make your space look larger with the power of mirrors. Also, consider floor-length curtains (with the rod placed at the top of your wall instead of just above your window) to create the illusion of higher ceilings!
Paint over brightly-colored walls and choose neutral paint that caters to a wide variety of personalities and styles. This tip can assist in creating a gender-neutral master bedroom – a great tactic to appeal to anyone looking to move in.
When it comes to the kitchen, if you can make the investment, replace mismatched, older appliances with stainless steel upgrades. If you don't want to replace cabinetry, updated knobs and drawer pulls go a long way.
Finally, adorn your kitchen countertops with fresh-baked cookies, a vase of flowers, and (most importantly!) cleanliness. Don't overdo it with lots of items. You'll want to balance aesthetic appeal with the availability of counter space. Just a few finishing touches will make a lasting impression.
Our Neighborly brands are committed to repairing, maintaining and enhancing your home – whether you're getting ready to sell or you've just moved in. Explore our entire family of home service experts at Neighborly.com.
Related Content:
ROI Home Improvements: Biggest Bang for Your Buck
Inexpensive Ways to Increase Home Value (& What Not to Do)