Be Better Prepared for Back-to-School with These Home Projects
If you're getting kids ready to go back to school, you've probably already prepared everything they will need to get through their school day. But what about when they get home? A big part of a successful school year is fostering learning at home as well as at school.
And one of the best ways to do this is to create a home environment that is designed to support their home study time. In fact, with just a few home projects, you can be completely ready for back-to-school this year - and everything that comes with it! Let's explore a few of the top home projects you and your kids can benefit from, as well as ways to get those projects from start to done!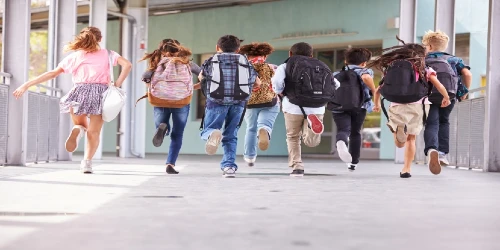 Smart Home Wiring
One of the best ways to be ready for back-to-school time is to invest in some smart home wiring. Depending on the age of your home, your wiring may be too old enough to support the level of connectivity many students need today to complete their schoolwork.
When you upgrade to smart wiring, you are not only protecting your home and electronic devices from damage from sparks and surges, but also enhancing the performance and security of your Wi-Fi whenever your children need to use it. To learn more about the benefits of smart home wiring, contact the professionals at Mr. Electric.
Separate Study Space and Storage
Another great way to support your kids as they learn at home and at school is to create a dedicated study space for them. For many kids, the distractions around the house or in their bedrooms make it hard for them to focus and do their best work. This is why a desk or even the kitchen table may not be the ideal spot for studying and homework.
Instead, if you have a basement or extra room in your house, consider renovating it to create separate spaces for your kids to use for schoolwork. If you haven't already, finishing your basement can help your kids succeed in school as well as add value to your home. Visit this link to check out more information and tips.
Related Topic: 5 Apps to Make This School Year Easier
Organize and Clean Kids' Rooms
Along with a separate place to study, your kids will also benefit from a clean and organized bedroom. But organizing your home while completing your other fall maintenance and repair tasks can be a big challenge, and many kids will even resist efforts to get them involved. But with a few creative ideas from the pros at Molly Maid, you can get your kids' rooms clean and organized and encourage your kids to help you keep it that way, too!
Don't Forget Outdoor Breaks
If your kids do a lot of schoolwork at home, it's important to schedule outdoor breaks for them. Kids can only focus intensely for a certain amount of time each day. That is why expecting them to sit at a desk or table for hours on end will usually end in frustration for both of you. It's important to find the right balance between schoolwork and recreation. So, consider combining educational activities and outdoor breaks to help keep your smart, active kids learning and engaged throughout the day.
A great way to keep the learning going while outdoors is to have your child help you grow a little flower or vegetable garden. Many kids enjoy learning about the natural world and may welcome a chance to dig around in the dirt. Check out these expert tips to get started on your child's outdoor learning garden!
Actually Get It Done
When it comes to home projects that will get you ready for back-to-school time, there are many great ideas out there. But the more challenging part may be ensuring those fun and creative projects actually get finished to use during the school year. The good news is, Neighborly can help! Our variety of home services professionals can help you start and complete any home project you have in mind. Together we can create a home that is back to school ready in order to help your children keep right on learning.