Baby Safety Tips to Try Today
Oh, baby! Is your house prepped and ready for the littlest loved ones in your life? Use this helpful checklist to ensure your baby is safe and sound at home.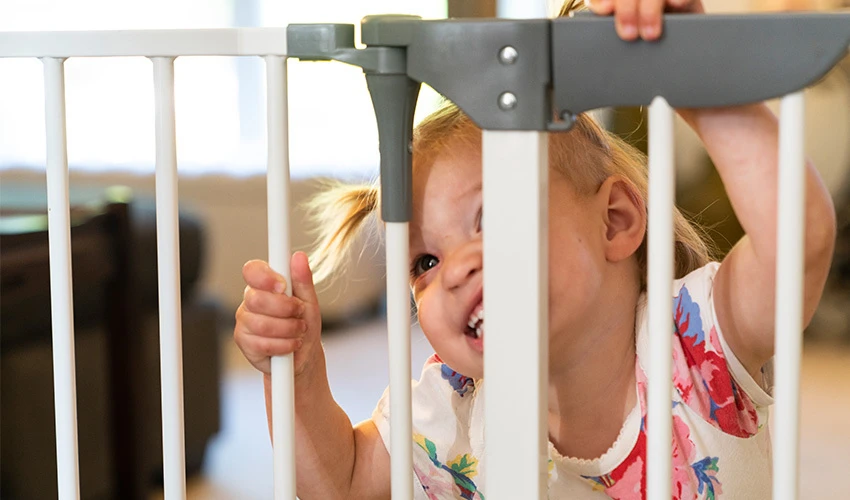 Set your water heater below 120 degrees to prevent scalding at bath time.
Test and replace batteries in smoke detectors and carbon monoxide detectors twice per year.
Keep fire extinguishers handy and on each floor of your home.
Install childproof latches on lower cabinets and doors.
Anchor bookcases and appliances to the wall or floor.
Replace window shades with accordion-style blinds and drapes.
Install safety gates at the top and bottom of the stairs and in any room that's off limits.
Keep toilet seat down when not in use and consider installing a toilet seat latch.
Keep the crib free of blankets, loose sheets, pillows and stuffed animals to prevent suffocation.
Install childproof outlets or place childproof outlet covers on all outlets in your home.
Reduce allergens in your home by cleaning tile, upholstery, carpet, and other flooring surfaces.
Clean bath toys to prevent mold or the spread of illness between your children.
Test and improve your indoor air quality, as indoor air pollution can cause serious health issues.
Paint your walls safely when a baby is on the way!
Move cleaning supplies and detergents out of reach and lock them away.
Unplug small appliances when not in use.
Remove toxic houseplants from your home entirely or out of grabby hand's reach.
Ensure your dishwasher is closed and latched when not in use.
Place corner protectors on sharp furniture corners.
Remove small items and décor that pose choking hazards.
At Neighborly, we're the caretakers of your home. If you need assistance with these tasks or any others on your to-do list, we would love the opportunity to help. Visit our website to explore our entire family of brands and schedule service.
Related Content
Helpful Keychain Gadgets to Keep You Safe