Apply This Project Manager Approach to Your Next Renovation Project
Are you eager to get started on your next home renovation project, but not sure how to actually get it done? Or maybe your last project seemed to drag on forever, leaving you worried about getting stuck with another half-finished renovation. One of the best ways to keep your next home renovation project on track and get it done on time is to apply the same method that professional project managers use: the critical path project method. Let's take a look at how you can use this project management method to complete an example home renovation project.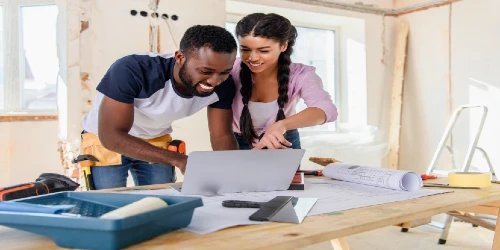 Identify All Tasks
The first step to starting renovation projects that actually get done (on time) is to first identify all of the essential tasks you'll need to do to finish the project. For example, if you wanted to renovate your living room, some of the essential tasks you might include on your list are things like installing smart home wiring, adding a TV mount to a wall, and interior painting. Or maybe you'd like to make your living room more kid-friendly. These are all common elements of an upgraded living room space.
Estimate Time Required for Each Task
Once you have your essential tasks listed out, the next step is to estimate how much time each one of these tasks will take. Also, it's important to know when your chosen home service providers will be available, and to schedule their services far enough in advance that you have more times to choose from. They can also give you an estimate of how long each part of the project will take, to make your estimate as accurate as possible.
Related Topic: Home Renovation Projects—How to Develop and Stick to a Plan
Determine Order to Complete Tasks
Next, you'll need to figure out the order in which each essential task should be completed. It is entirely possible that in a project like a living room renovation, there will be some tasks that will need to be completed before you can start others. For example, if you want to have your windows tinted to help maintain a more comfortable room temperature, it's best to have this task completed before any other work is started. Or perhaps you plan to have the room painted. It's best to do this before any new flooring, carpet or furniture is installed.
Determine Key Milestones
Along with your project's individual tasks, you should take the time to identify several key milestones. These can help you gauge when one set of tasks is complete and the next set should begin. Key milestones can also help your renovation project keep moving forward.
Related Topic: What Home Improvements Increase Property Taxes?
Determine Quickest Way to Complete Project
With your tasks listed and organized, you can now determine the critical path your project will need to take to reach completion. Put simply, the sequence of critical tasks you need to complete your project becomes your critical path, and will help you determine your timeframe for the entire project.
Visualize the Path
Finally, it can be very helpful to create a visual of your project's critical path. You could consider making a simple but colorful flow chart showing when each essential task should be completed. Or, you could make some other type of graphic that will help you track your milestones and know when each phase of your project is complete. Visualizing your path to completion can be good for you and for your project, too!
Let Neighborly Help
One of the biggest reasons a home renovation project gets delayed - or takes a very long time to finish - is someone trying to do too much of it themselves. If you've got some big ideas for your next renovation project, you'll need the right home services professionals to help you get it done. At Neighborly, we have a network of dependable home service professionals ready to realize your next home remodel project. No matter what you'd like to do, we've got the help you need! Learn more about us and our home services brands by visiting https://www.neighborly.com/about/about-neighborly.