An Easier Path to Get Work Done at Your House
As a homeowner, it can take a significant amount of time and effort to find a home service provider. This is true for just about any service that your home needs, from plumbing and pest control to larger home renovations and repairs. In fact, some homeowners may even delay regular maintenance because it is such a hassle to get work done around the house.
But what if there was a better way? The good news is that Neighborly offers a new path to finding good service providers for all of your home maintenance, renovation, and repair needs. Here are a few ways that Neighborly can help reduce the time and effort you'll need to get work done at your house this year.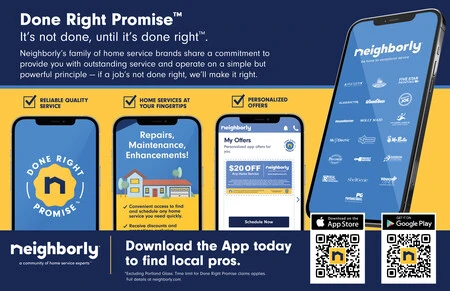 Use a Multi-Service Company
If you've ever tried to find and hire a service provider for your home, you know what a time-consuming and frustrating experience it can be. In fact, it can take more time to find and research a service provider than it does to actually have the service done! But you can eliminate all this time spent vetting service providers by using one company that provides multiple services. By using a trusted multi-service company, you can save yourself hours of time and effort. Check out more benefits of using a multi-service company for your home at this link.
Done Right Promise
Another common frustration that many homeowners experience is hiring a service provider only to have work done that does not quite meet expectations. Maybe the work was okay, but if you don't feel confident that everything was done thoroughly and to the highest standards, you may still worry that the service simply wasn't done right.

Wouldn't it be nice to hire a home service provider that promised to do the work right, and to come back, if needed, until you were satisfied? And, if that was the same promise offered by multiple services, not just one – how much less time would you spend worrying about home maintenance and repair?
With Neighborly, you can worry less and rest assured that the work will be done right. It's called our Done Right Promise. Learn more about our promise to you by visiting this link.
Related Topic: Apply This Project Manager Approach to Your Next Renovation Project
Schedule Appointments

It can be such a hassle to schedule appointments with different home service providers. Your home needs regular maintenance and repair to support the comfortable life you love, but trying to coordinate schedules and get all of it done always seems to take more time and hassle than it should. If you've ever tried contacting several service providers only to be met with a voicemail or no reply at all, you know exactly what most homeowners have experienced.

Why not take a different approach to schedule your home services? With the Neighborly app, you can contact and schedule appointments with multiple home service providers with just a few easy taps. The Neighborly app lets you streamline your home service appointments and manage your time better than you ever thought possible!
Notifications About Your Request and Service Pro
Getting a service scheduled is just the first step; getting timely updates on your service request is another. If you've ever felt frustrated about not knowing where a service provider is, you're not alone. Maybe you have concerns about whether they are even going to show up for the job. With the Neighborly app, you can stop wondering and instead get timely updates that your job has been scheduled, a service pro has been assigned and is on his/her way.
You'll also get a notification when they arrive and when your job has been completed. In this way, you can worry less, schedule your time accordingly, know more (and more often), and feel better about hiring service professionals who care about making your home service experience the best that it can be.
Exclusive Offers
As you can see, there are lots of reasons to download and use the Neighborly app. But another benefit is gaining access to exclusive home service offers. What could be better than getting quality home maintenance, renovations, and repairs at a discount? By downloading the Neighborly app, you can receive offers in-App that no other homeowners can get, making it even more affordable to get work done at your home.
Download the Neighborly App
To access all the great benefits of the Neighborly App, you'll need to download it first. Find the app in the Apple Store or on Google Play, download it, and then answer a few simple questions. In just a few minutes, you'll be ready to schedule home service appointments and easily take care of everything your home needs!