roof rafter
Sustainable Architecture and Green Building Materials
When it comes to leaving the world better than we found it, we can all do our part. From recycling plastic water bottles after lunch to bringing reusable bags to the grocery store, small adjustments to our daily routines have the power to create lasting change.
How can we take it one step further? It's possible to be more environmentally conscious in the way we build houses. Learn more about sustainable architecture, "green" building materials, and how you can make earth-friendly updates to your existing home.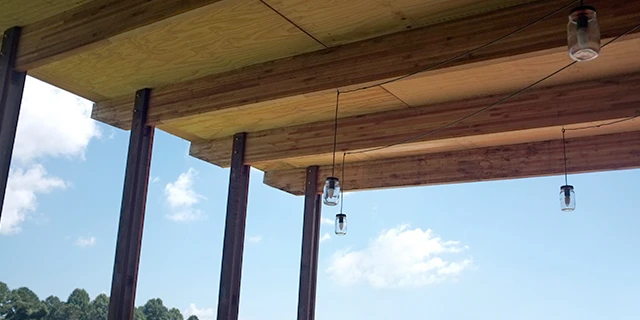 What is sustainable architecture/green design?
Sustainable architecture actively minimizes negative impacts on the environment and human health. Homebuilders play a key role in this collective "doing our part," and more programs are pushing for a greener future. For example, the United States government promotes more sustainable design through LEED, a program through the US Green Building Council, and The National Institute of Building Sciences (NIBS) has a design guide that includes strict sustainability practices.
Common characteristics of green design include:
Energy-efficient lighting
Water-saving plumbing
Landscaping with native plants
Alternative energy sources, such as solar or wind
Rainwater harvesting
Minimal waste in demolition/building process
Recycled and non-toxic building materials
How to achieve your "green" home
A green home can truly help your home become a dream home! Like living green on a budget, creating a more environmentally-conscious home doesn't have to be complicated. Consider these earth-friendly modifications:
If you're building a new home, you're in the perfect place to create a green home from the ground up. Consider incorporating green materials like grasscrete, ashcrete, timbercrete, hempcrete, bamboo, wood, and recycled plastic into your structure.
At Neighbourly, we're committed to helping you achieve the (green!) home of your dreams. For assistance with environmentally-friendly updates and any other home service need, visit our home page and connect with a local pro.