Where to Start When the Ice Begins to Melt
After weathering a winter storm, it may be difficult to know where to start when the ice begins to melt. Are pipes okay or will they burst as they begin to thaw? Where is my water shut-off valve in case I need to turn it off? Is my HVAC system safe to use? What do I do with the food that was in my refrigerator and freezer during the power outage?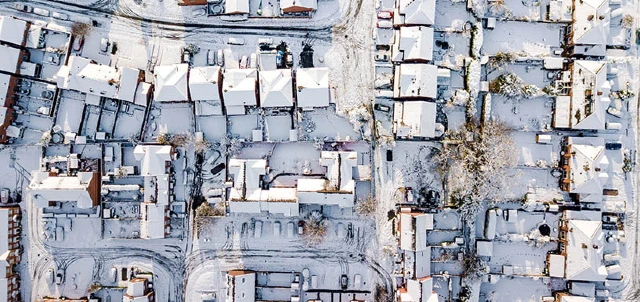 To assist homeowners in answering these questions and knowing other best practices for winter weather aftermath, here are some basic tips:
IMMEDIATELY…
Once the temperature rises above freezing, be on the lookout for signs of water staining on walls, ceilings, and flooring which could indicate a possible break. If an active leak is detected, locate the water main and turn off the water source immediately. Then, contact a plumber.
If you have standing water or flowing water in your home near electrical outlets, do not enter the home, get to a safe and dry location and call for emergency help immediately.
Document any water or fire damage in your space and to contents within the space with photos or video. Then, call a restoration professional to help clean up.
Take inventory of your home appliances and equipment. What is working or not working? Which items potentially have water or electrical damage? Keep detailed notes to share with service professionals.
Inspect the exterior of your home for damage caused by heavy snow and ice. Specifically, your roof and gutters. If your gutters were clogged and then froze, a dreaded ice dam may have formed. If so, it's likely your gutters became loose or damaged as the ice expanded and contracted. This may have also damaged your roof, which can lead to flooding as the snow melts.
As a general rule, discard refrigerated perishable foods such as meats, poultry, fish, eggs, and leftovers after four hours without power.
Contact your insurance agents to discuss winter storm recovery claims, including flooding. Hire only professional, reputable contractors for cleanup and repair needs. Avoid the "drive-by" contractor. Stay tuned to your TV or radio during winter storm recovery for information on assistance available in your area through governments or other organizations.
NEXT FEW WEEKS…
Properly store your generator and fuel after use in a locked shed or other protected areas. To guard against accidental fire, do not store near a fuel-burning appliance.
Schedule professional home generator maintenance and tune-ups once per year to be ready for any future emergencies.
Install whole-house surge protectors to ensure your electronics and appliances from future power surges.
Have a trained heating technician inspect your heating system following a winter storm, including chimneys and vents.
Restock your emergency supplies and be ready in case another storm hits. Talk to your neighbors and friends to share tips on what you might do better if the event occurs again.
Before the storm, after the storm, or anytime in between, we're here to assist you. If you need a helping hand when recovering from a winter storm, contact any of the Neighborly home service brands for local help you can trust.