Creating a Customized Man Cave in Your Garage
While today's modern man may be a little unsure about the idea of a "man cave," - but the fact remains that having a place set aside to relax and enjoy your favorite hobbies can boost your mood and positively impact other areas of your life.

Forget the stereotypes and innuendos – Neighborly® invites you to explore garage man cave ideas to create a room that suits your unique definitions of manliness and relaxation. Here we'll discuss: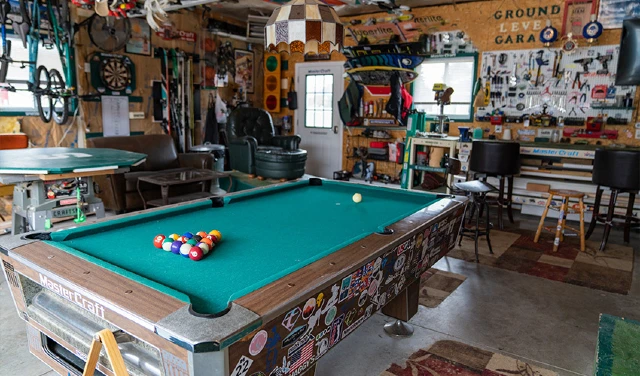 Benefits of a Man Cave
Why should you turn your garage into a man cave? Outside of the obvious benefits of having a place to unwind, here are some other potential perks:
Storage for your favorite stuff –– no need to cram it into a closet.
A boost of your home's resale value –– home buyers often love extra recreation spaces,
A great place for entertaining guests, whether watching a big game or just hanging out.
A space that doubles as a game room –– with a card table, a foosball table, or any of these cool game room features
Contrary to popular belief, you don't have to shut the rest of your family out from the man cave. You may find it's even more fun to share it with others. Date night or family game night in the man cave can't be a bad idea!
How you use your man cave is entirely up to you, but you'll need some inspiration for creating it. Whether you are looking for some garage man cave ideas on a budget or are ready to go all out, keep reading to get your plan together.
Ideas for Building a Man Cave In Your Garage
Before you get started, consider what your goal is for turning the garage into a man cave. Do you have specific décor in mind? Will you use the entire garage, or would you like to use a sectioned-off area? Do you want a theme like music, games or sports? Once you've narrowed down your goals, you'll be able to plan the layout.
Here are some garage man cave ideas to inspire you:
Incorporate a dartboard, pool table or flat-screen TV for watching big games and hosting friends.
Showcase your musical instruments on the walls and reserve space for a drum set or nice speakers to listen to your favorite music.
Kick the fun up a notch by installing a home bar and a mini-fridge full of your favorite beverages.
Maximize comfort with your favorite armchair, couch, fluffy rug, or gaming chairs.
Bring in décor that fits your interests, like sports memorabilia, a vinyl collection, your favorite photos, art or posters.
Show off your tech savvy – add dedicated wireless access points, your favorite gaming console or PC, and smart technology to bring your man cave into the 21st century.
Get intellectual – install custom bookshelves and comandeer a reading chair to turn your space into your ideal study.
How to Turn a Garage into a Man Cave
Once you are ready to turn your garage man cave dreams into reality, there are some important factors to consider and steps to take for the best results:
Turning your garage into the man cave you've always wanted is easier than ever with the Neighborly family of home service professionals. Check out the many services of our top-notch brands, or get more helpful advice on the Expert Tips section of our site to discover other ways that you can improve your living space.