She Shed Ideas: You Know You Want One
A she shed is a place completely dedicated to literally whatever you want, girl. Kick the lawnmower out of that shed – and make room for you, using these awesome she shed ideas.
She Shed Interior Ideas
To choose the best she shed ideas, start by defining your shed's purpose to plan the interior. What activities will you be doing in your new space the most?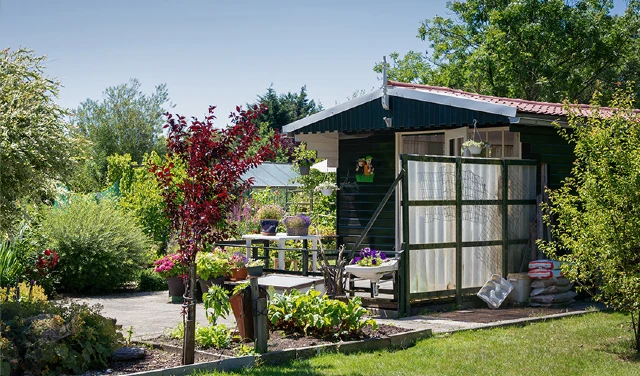 Check out the following options, organized by shed purpose:
Reading nook she shed ideas
Want to curl up with a book and silence? All you need is a floor-to-ceiling bookshelf and a comfy seat in your she shed. To utilize vertical space, hang blankets on an old wooden ladder – which you can also use to reach the top shelf! Get more reading nook ideas here.
Art studio she shed ideas
Pursue your art more comfortably by setting up a studio. Unless you want it to be a film darkroom (unlikely for most), your focus for this project should be natural light. Add a window, ideally on the south side, to bring in the sun.
Entertainment she shed ideas
Movies, TV, video games, yes! To make your she shed an entertainment center, you'll need comfortable seating, low lighting, and the right electrical setup. All those electronics should be on a point-of-use surge protector with a power conditioner.
Want to invite your gal pals over more often? Turn your she shed into the venue. Maximizing space is the key to pulling off this she shed idea. Lucky you, we've already compiled some ideas for maximizing small spaces. Get some attractive, comfortable folding chairs so you can adjust the seating to match the party size. You might even have room to create a unique bar.
A she-shed can be turned into a mini home gym if you use the space wisely. Try a wall rack of dumbbells, resistance bands, a yoga mat, and an exercise ball. If you like guided exercise, make sure there's a space for a laptop or TV at hip level. Otherwise, a good Bluetooth speaker should keep you motivated.
If you're feeling wild, you could even turn your shed into a home sauna.
Have you settled on your shed's general-purpose? Keep reading for specific setup tips.
How to Build a She Shed
Electrical, Plumbing, Carpentry
Depending on your she shed's core purpose, creating it might get complicated. We've compiled some setup tips and paired them with suggestions for professional help. This will help you determine how to build a she shed that really fulfills your needs.
First, take care of the electrical setup and – if you're going all out – plumbing. Running outdoor electrical is not a DIY project, as missteps could cause a serious hazard. If they're locally available, we recommend the qualified pros at Mr. Electric® to take care of the electrical system, surge protection, and custom lighting. Similarly, plumbing is complex and depends on local building codes. If you're dreaming of a big farmhouse sink, hire experts; look for a Mr. Rooter® Plumbing team near you. Both brands are part of the trusted Neighborly® family of home service pros!
Next, think about what carpentry needs to be done. Will you need to insulate your shed for colder months? Do you want real walls? What about custom shelving or a built-in window seat? To get professional help with any of these aspects, check if there's a Mr. Handyman® in your area.
Glass, HVAC, Paint, Landscaping
Next come the windows and other glass. Remember that a window on the south side will let in the most natural light. Skylights are a great option too. A classy mirror will reflect the light to make the space feel larger. See if there's a nearby Glass Doctor® team to install windows and provide excellent custom glass solutions.
Don't forget about ventilation, heating, and cooling! Even if you don't want a small air conditioner or heater, you'll need to ventilate properly. Is there an Aire Serv® nearby? For quality HVAC services, we can't recommend their teams enough!
Painting your she shed is one of the most personal aspects of the project. Five Star Painting®, a Neighborly brand that may serve your area, has great tips for painting sheds and provides incredible interior and exterior painting services!
Finally, make your she shed feel more like a mini house by landscaping around it. She shed landscaping ideas include a stone pathway, a window box, some perennial plants – maybe even a relaxing fountain with a lawn chair nearby. Search for a local The Grounds Guys® if you need help with landscaping, and you won't be disappointed.
Just Ask Neighborly
The diversely talented Neighborly pros are your answer to "how to build a she shed that simply rocks." Our home service experts, like those mentioned throughout this post, are available in many locations throughout the nation. Search for the services you need right here.