Renovations That Can Help Increase Your Home Value
If you're like many homeowners, you'd like to know for certain that you will be able to recoup the money you're investing in renovations. And while it's true that renovating a home can be a great way to increase your home's value, it's also true that not all improvements pay you back when you sell.
In fact, there are some home renovations that do very little to boost your home's value, if at all! To maximize your property values and get the highest possible return on your renovation dollars, you'll want to focus on upgrades that have a strong track record of doing just that. In what follows, we'll take a closer look at the renovation projects with the highest average return for the money.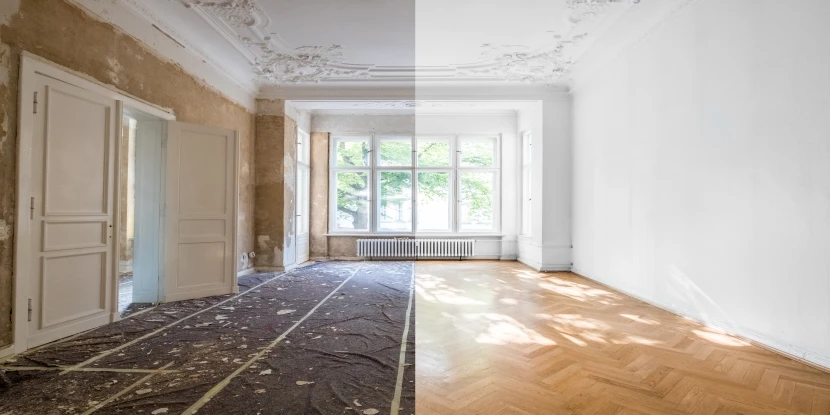 Kitchen or Bathroom Remodel
Out of every room in your home, the two with the highest potential for a boost in resale value are the kitchen and the bathroom. Dated kitchens and bathrooms can really drag a home's value down, while the opposite is also true: buyers love kitchens and bathrooms that have kept pace with modern times. But what is perhaps the most interesting about kitchen and bathroom remodels is that even minor upgrades often give you a higher return, dollar for dollar.
For example, a minor bathroom remodel typically involves replacing the vanity and sink, tub and/or shower, toilet, floor, and fixtures. For around $10k, most bathrooms can be given a significant facelift that, on average, will give you a 100% return on your investment (a.k.a. a $10k increase in sales price). This same approach works well in the kitchen, too.
A minor kitchen remodel, in which you replace appliances, countertops, flooring, lighting, and perhaps re-face cabinets and drawers, will run an average of $15k. But the typical return of such an update is about 98%, making it one of the best ways to increase your home's value.
Of course, that increase depends on the quality of work you have done. For professional results, check out the services offered by Mr. Handyman.
Related Topic: Home Renovation Projects - How to Develop and Stick to a Plan
Energy Efficient Windows
Next to updating your kitchen and bathroom, installing energy-efficient windows is one of the best renovations you can do to achieve a high return on investment. Not only do new windows improve the look of your home, but they also improve the efficiency of your heating and cooling systems, lower your utility bills, and provide a strong incentive for future buyers to pay a higher asking price.
While the cost of replacing windows with energy-efficient models will vary, on average, you can expect a return equal to nearly 90% of your initial investment. Visit Glass Doctor to learn more about how you can improve your home and energy costs with new windows.
Related Topic: Do Energy Saving Windows Actually Save Money in Older Homes?
Professional Landscaping
Another top renovation with high returns is investing in professional landscaping. A home's curb appeal plays a big part in your property values, including sales price. To ensure that your home values will increase, it's worth it to opt for a professional design and regular maintenance. For example, studies have shown that a green and tidy lawn area, colorful flower beds, and a visually appealing walkway can all help give property values a boost.
But the best part is that you can expect an almost 100% return for any improvements you make to your home's landscaping. If you'd like some help with your landscaping design and maintenance, visit The Grounds Guys online. Our service professionals can help you achieve the eye-catching look your landscaping needs to ensure a high return on your investment.
Related Topic: Best Trees for Front Yard
New HVAC
In many ways, your home's heating and cooling (HVAC) system is the invisible workhorse that makes everything you do at home possible. While it may not be the most visible part of your home, an aging or malfunctioning HVAC system can wreak havoc on a property's resale value. For this reason, it's important to plan to update your HVAC system if it's 15 years old or older.
Like new windows, a new air conditioning unit, furnace, or updating ducting can not only improve your home's energy efficiency and lower utility bills, but it is also another top renovation with a high return on investment. According to the National Association of Realtors (NAR), an HVAC renovation can result in an average return of up to 71%, making it one of the best ways to increase your home's value. To get started on your own HVAC upgrade, the professionals at Aire Serv can help!
Related Topic: Replace or Repair My AC - What's the Best Option Financially?
Upgraded Lighting
Lighting is another great way to upgrade your home while still getting a high return on investment. And upgrading to LED or other energy-efficient lighting can help you maximize that return with energy savings until you are ready to sell. New lighting, including LED bulbs, can cost anywhere from a few hundred dollars to several thousand, but there's no need to go extremely high-end to get the maximum return.
Even small upgrades can result in as much as a 50% return on your investment and give your home a custom feel that buyers will find irresistible. If you're ready to upgrade your home's lighting or maybe just looking for a few ideas, visit the Mr. Electric for more advice and insight.
Related Topic: How to Set Up Your Smart Home's Foundation for Success
Don't Forget Maintenance's Effect on Value
Finally, one of the most important things you can do to preserve and increase your home's value is to invest in quality home maintenance. There are many ways that proactive home maintenance can help you save money and keep your property values going up. For example, regular maintenance of appliances can help extend their usefulness for many years, keeping repair and replacement costs down.
Proper maintenance of HVAC systems, roofs, windows, plumbing, and electrical systems can also help you avoid expensive emergency repairs and ensure that your home always remains in good condition. For more information about the impact of maintenance on your property values, check out the expert tips on Neighborly.com.