Prep Your Home for Summertime Hangouts
Summer season is here, and you've likely noticed a home maintenance project or two that may need tackling. Maybe it's pressure washing your home's exterior and driveway to wash away built-up dirt and grime. Perhaps you want to plant some colorful flowers to freshen up your outdoor appearance. Or maybe you need to repair your deck or fence damaged by the weather.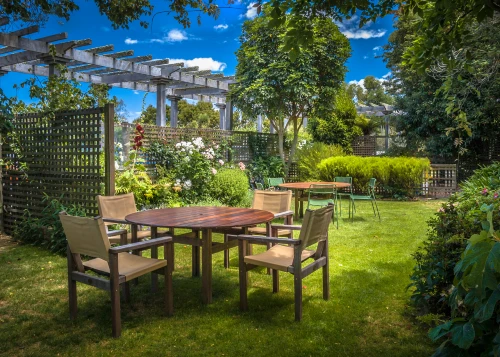 Are there other home maintenance tasks you're overlooking that could help improve your home's efficiency, be more mindful of summer storms, or maximize time outdoors?
Take the guesswork out of prepping your home for summer with this Summer Home Maintenance Schedule, courtesy of Neighborly. This FREE checklist will help ensure your home ready for the summer season. When you download your checklist, you'll find several helpful reminders like:
Replace your AC's filter every 45-90 days.
Clean gutters to prevent flooding, water damage, mold, and standing water.
Have window film professionally installed on your home's windows to deflect the sun's rays.
Keep tall grass trimmed around exterior condenser unit.
Light up outdoor spaces with string lights, hanging tree lamps, and other accent and safety lighting options.
Click the image below to download your checklist!
Neighborly Summer Home Maintenance Checklist PDF (44kb)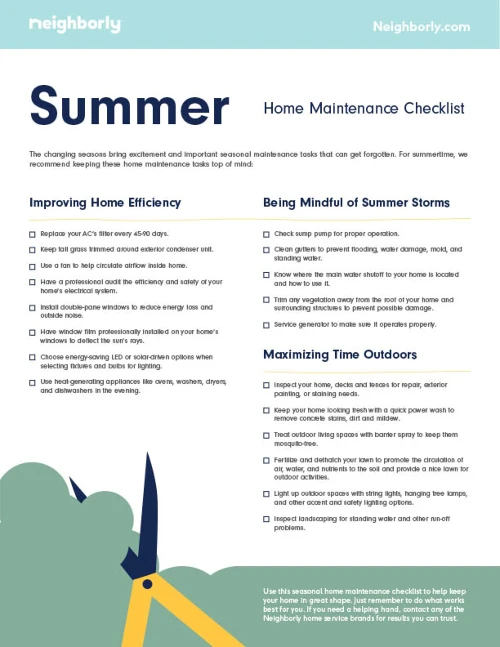 Need help with your home maintenance to do list? A Neighborly home service professional would love to assist. Visit our home page to explore our services and connect with a local Neighborly pro.