Perfecting the Guest Room-Office Combo
Whether your guest room is usually vacant or booked, everyone can benefit from a home office in the guest room. It's a more efficient use of space, a private spot for your guests to peek at their email, and an excellent space for you to work when you don't have company. The ideas listed below should help you achieve the right office–guest room layout, functionality, and flair.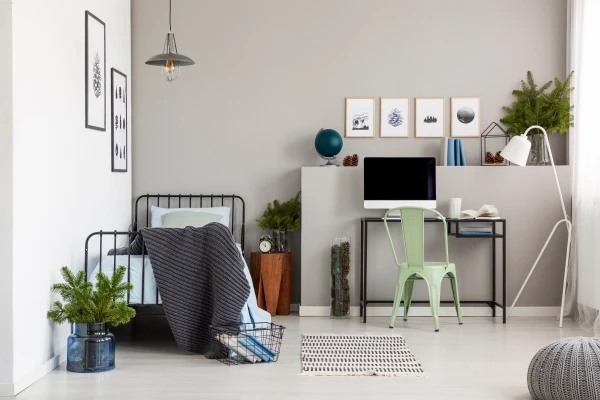 5 Awesome Home Office—Guest Room Ideas
1. Install a Non-Traditional Bed: Ever thought about putting a Murphy bed in your guest room–office? A bed that folds out of the wall or a Murphy cabinet is a space-saving wonder that could be perfect for your spare room. Alternatively, a home office with a daybed might suit the room better. Any of these solutions might require some custom carpentry from a trusted handyman.
2. Divide the Home Office—Guest Room Layout: An open layout is not conducive to focused workdays when there are people staying in the office–guest room. But there are plenty of attractive ways to create division between the bedroom area and the desk area. Creating implied division can be as simple as placing a large area rug in the desk area. This can help separate the room from a visual perspective. Or you can go bigger: Add a partial or half-wall; an artsy, foldable room divider; or even a glass partition.
Related Topic: Home Office Ideas for Better Productivity
3. Convert Part of a Closet: If the guest room closet is large, claim part of it as office space! While the desk may still be in the main room, the closet is an ideal spot for a printer, filing cabinets, and a small vanity area with a custom mirror for primping before video calls. You might also want to consider adding additional storage or shelving to accommodate the office equipment and/or supplies.
4. Add a Mini-Fridge: Give your guests a hotel-like experience with a mini-fridge or beverage cooler. Whether they're using the office area or just relaxing, they'll love having a stocked fridge all to themselves. Keep an appliance repair expert saved in your contacts list for service and maintenance—things tend to break right before guests arrive, right?
Related Topic: Considerations for Elderly House Guests
5. Upgrade the Guest Bathroom: If your guest bathroom is outdated or small, consider giving it an upgrade. Maybe the bathroom sink is too small, or it doesn't have a shower, or would benefit from additional counter and storage. Whatever upgrades are needed, using a local plumber can get your bathroom upgrade completed before your guests arrive.
What's Next?
Utilizing your space more efficiently will not only benefit you, but it will also make entertaining guests a little easier. To get started, write down your favorite ideas for your office/guest room space. You could even survey your most frequent guests to see what kind of features they would like most (but be careful, they may never want to leave).
If you need help putting your plans into action or getting projects completed before your guests arrive, Neighborly can help. Our family of trusted home service professionals are experts at helping homeowners complete home projects. We can help you complete repairs and schedule maintenance that makes your home a welcome destination for family, friends, and guests. To learn more, or to get started, give us a call at (855) 217-8437 or visit us online today.