Outdoor Bar Ideas and Construction Tips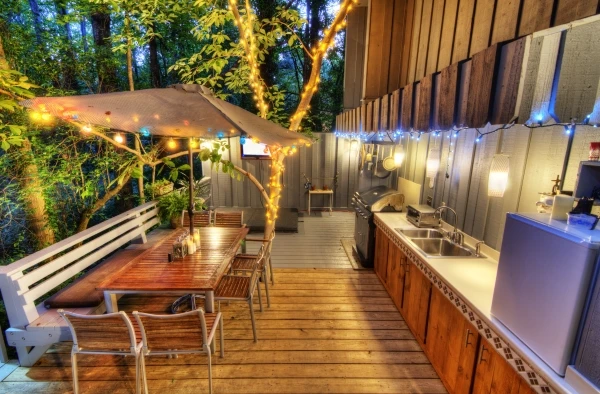 Adding an outdoor home bar is a perfect way to enjoy warm weather and entertain family and friends. With a beverage in hand, friends gathered around, and a trendy bar to serve refreshments, you can enjoy every occasion to the fullest.
While you could buy a premade bar to set in your backyard, it may not achieve the custom look and functionality you desire. This article will walk you through some of the options for an outdoor bar and help you decide on an option that might work best for you.
Building Your Own Outdoor Bar
You can most likely find instructions on 'How to Build an Outdoor Bar' online. However, to make it worth the effort, you'll need moderate building skills and access to woodshop tools to complete the project. If you run into problems or are short on time, there are better options that will save you time and perhaps some money. If you do attempt to DIY this project, here are some of the things you'll need to do:
Set the foundation for a solid base (paver, stone, concrete, etc.).
Build a bar frame using weather-treated lumber.
Choose a material for the bar top (something that withstands moisture well)
Fasten the bar top to the foundation with glue, nails, and/or screws.
Attach side boards (similar to fastening the top).
Add trim, shelving, and optional features like a roof or other decor.
Important Things to Consider Along the Way
Before you place the foundation for your bar, you need to ensure the area you choose is level and stable. As mentioned, paver, stone, and concrete are good options because they provide a sturdy base on which to build. If needed, recruit a hardscape expert to install a foundation for you. Once that's set, you can begin constructing the bar itself. Depending on your level of expertise, you can construct the bar with four simple walls (with no storage) or three walls and a "back wall" that can support shelves.
Using pressure-treated lumber is a must because it is naturally rot-resistant and will hold up well to moisture and wet conditions. When assembling the lumber, it's best to use galvanized screws instead of nails. Screws will hold everything together better and won't rust like nails.
The standard height for most bars is about 42 inches, so assemble your frame to about that height. If all this measuring, cutting, and assembling feels a little overwhelming, you may want to contact a skilled carpenter to complete the project and minimize the stress.
Choose a Countertop and Siding
Next, it's time for the bar top and the siding. Once again, choose materials that are weather and water-resistant. This will extend the life of your bar and allow it to provide more hours of enjoyment. If pressure-treated lumber is too expensive or not an option, you can weatherproof the lumber using a waterproof stain or paint.
Besides wood, there are a few options for bar top materials, such as:
Concrete (make sure your foundation is strong enough to support the weight)
Stainless steel
Stone tile, or granite, with waterproof grout
For the siding, if you don't want to use wood, you could use:
Corrugated metal roofing panels
Various types of house siding
Brick or tile with waterproof grout
Add Your Finishing Touches
Once you have the foundation, walls, and countertop completed, the next phase of the project is the most fun. Now is the time to add flair and your personal touch to the project.
Adding trim to the sides and corners of your bar is a good finishing touch. You can also add shelves and storage onto the back or side walls. If you want to get fancy and functional at the same time, hire a professional to build custom glide-out shelving. If you decided to go with a simpler box-like design, you could mount bracketed shelves on the side walls. Keep reading for more ways to finish your outdoor bar setup!
Related Topic: Sip on These Home Bar Ideas
Creative Outdoor Bar Ideas: Fun Features
You don't have to be limited to building a standard outdoor bar. If you feel ambitious, get creative and add elements that really make the project come alive for you.
Incorporate a roof with lighting. A roof overhang with outdoor lighting can provide protection from the elements and a nice ambiance. It also allows you to use your bar during evening hours. Whether you choose a gazebo-style roof with light fixtures or a minimalist metal roof with waterproof string lights, your bar will look awesome in the evening.
Bring the kitchen outside. While your focus may be enjoying refreshments in the yard around the bar, why limit the experience to that? Consider installing an outdoor sink or ice maker and move the grill over to expand the possibilities for your summer soirées. Here's some great advice for perfecting your outdoor cooking.
Showcase your homebrew. If you enjoy dabbling in the art of brewing, adding a kegerator to your outdoor bar allows you to offer your own fresh brews right from the tap. A local pro can help you with the setup.
Have soda on tap. Adding a soda dispenser for mixed drinks, crème sodas, standard sodas, or seltzer is a great way to keep kids and adults happy.
Fresh pizza, anyone? Another unique feature you can add to your outdoor bar is a stone oven for cooking pizzas, pies, or virtually anything you want. This can be a real crowd pleaser and something everyone can enjoy.
Related Topic: How to Throw a Great Outdoor Dinner Party
Get Your Dream Outdoor Bar Setup
Designing a custom outdoor bar can be simple, or you could take your vision and design ideas to the next level by creating an extension of your home. Incorporating your personal interests like mixology, cooking, or home brewing can make an outdoor bar the focal point of your backyard experience.
If you're ready to make your outdoor bar a reality but don't know where to start, the Neighborly family of home service experts can help. Our service professionals can handle the building, plumbing, lighting, and painting to ensure your project looks great! We can also help you with landscaping and keep bugs away too! And with our Neighborly Done Right Promise, you can be sure all work will be finished to your complete satisfaction, guaranteed! Search for available local home services in your area, or call (855) 217-8437 to get started.