How to Throw a Great Outdoor Dinner Party
Amid the ice pops and watermelon slices this summer, it's possible you crave a more elegant experience from time to time.
Eager to throw a great outdoor dinner party, but don't know where to begin? Cue your friends at Neighborly. We've got the tips and tricks to make your dinner party one for the books. Bon Apetit!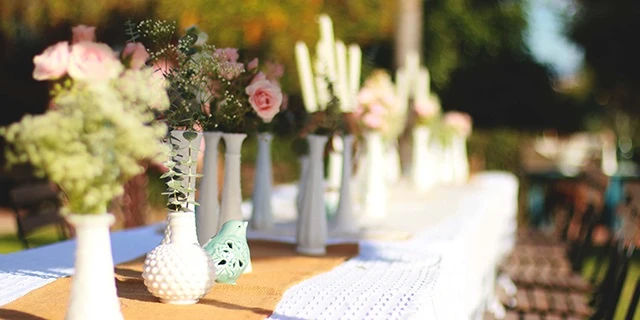 Ace the Ambiance
Aside from nailing the menu, the environment and overall ambiance are critical in creating an elegant experience for your guests. Here's what you can to do prep your outdoor space long before friends and family arrive.
Dazzle at Dinner
You've set the stage – now it's time for the main event! We trust you'll have a fantastic menu, so here are a few tips and tricks for dinner party success you might not have thought through.
An elegant experience does not necessarily equate to fancy dinner plates and silver. Minimize the cleanup with pretty disposable tableware – check out these ideas from the kitchen!
Disperse food, drink, and dessert tables throughout the space to encourage movement and socialization.
While you might be invading their space, insects aren't invited to your party! Ensure they don't crash it with subtle options like citronella candles or creating a breeze near the action with an outdoor fan. No more mosquitoes!
Game on! Set out classics for the yard like badminton and bocce ball for before or after dinner.
Don't forget the music! Stick with classics that everyone and hum along to, but be sure not to drown out a good conversation. Encourage musically-inclined guests to bring their instruments!
Good company is easily the most important ingredient of all. At Neighborly, we want to foster community and friendship in your neighborhood. Knock on a few doors and throw a great outdoor dinner party this summer!
Need professional help with the prep? We've got you covered. Explore our entire family of home service experts at Neighborly.com.