How to Set Up a Guest House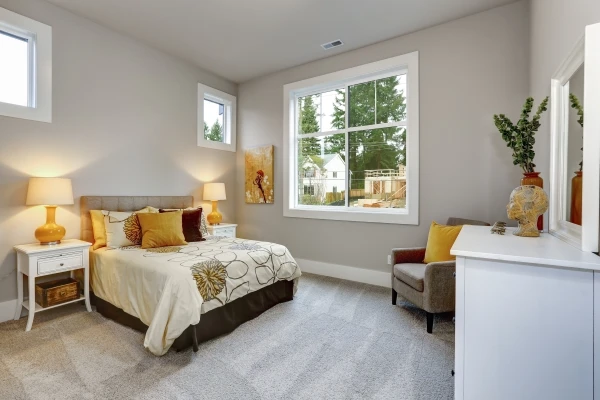 Finishing or renovating your guest house leads to great opportunities. It makes it easier for friends and family to visit, and it could even become a source of income as a rental. But before you take up the creative side of decorating, first tackle the technical side. Take time to plan the layout, check the HVAC and electrical systems, and consider updates for optimal coziness and convenience.
Thinking About Structures and Major Systems First
As you get started, you should address a handful of important factors before painting the walls or picking out curtains. Start by ensuring your guest house meets all safety standards and is a comfortable place to stay.
First, have an electrical safety inspection to ensure your system is up to code and running correctly. A plumbing inspection can confirm that your plumbing is in tip-top shape and there's no water damage. Including an HVAC inspection can help ensure the space is safe and comfortable throughout the year. And finally, have large appliances checked, especially if they haven't been used for some time, to make sure they are in good working order. Your guests will love having appliances of their own for preparing meals or doing laundry.
Consider the Layout
Whether you're embarking on a guest house remodel or setting up a guest house for the first time, you'll want to carefully evaluate the layout. Is it functional, inviting, and convenient?
Here are a few layout updates you may consider:
Add or remove walls. If the space is too closed-in, you may find that removing a wall opens the space and changes the whole flow of the house. On the other hand, perhaps the space feels too open and you want to add a partial wall to create more private areas for large parties of guests. Get wall repair and renovation tips and ideas from Mr. Handyman®.
Consider a loft. To maximize space in a guest house, you can add a loft for the bedroom area. This is ideal if your guest house is tight on square footage but has a high ceiling.
Make it accessible. Adding an entrance ramp makes the space easier to access, whether you're preparing the space for a grandparent or a family member with special needs. You may also consider updates like grab bars, wider doorways, and more.
Add Security and Smart Systems
After you have structure, major systems, and the ideal layout in order, consider adding these secure and convenient features:
Security systems. Installing a security system will give you and your guests peace of mind. Naturally, you have to be mindful of your guests' privacy, but a simple camera that views the front door and the driveway can deter burglars.
Smart home devices. Take your guest house to the next level with a smart home system. For example, there are smart sensors that alert you to gas pipe leaks or other dangers in your guest house. Smart locks allow you to give temporary access to guests without dealing with keys. Smart thermostats keep your guests comfortable automatically, while giving them control if they want it.
What Should a Guest House Have for Ideal Comfort?
It's easy to get caught up in all the options when it comes to outfitting your guest house. Before you get lost in deciding how to decorate your guest house, focus on the essentials.
Here's what all guest houses should have:
Space for luggage. A simple dresser could fulfill this need, or you may consider a built-in closet or cabinetry for a chic look.
Comfortable bed. Add fluffy pillows, blankets, and a cozy quilt to the bed to make the space comfortable and inviting.
Convenient power outlets. There's no question that guests will appreciate well-placed, childproof power outlets to charge their phones and tablets in the guest room.
Towels and toiletries. They don't have to be fancy, but towels and basic toiletries are a proper measure of hospitality for your guests.
Full-length mirror. Your guests will appreciate a full-length mirror that lets them check their outfits before going out for the day. Consider a custom-cut mirror for a unique look.
Thoughtful extras. Depending on who your guests are and what they enjoy, you can add some finishing touches to the guest house that will appeal to them. Options include matches and candles; books; fresh flowers; a yoga mat and foam roller; and an electric kettle with a nice selection of tea.
Related Topic: Preparing Your Home for Holiday Guests
Need a Hand with Your Guest House Renovation?
Setting up a guest house requires many decisions, a lot of time, and sweat equity—or does it? You don't have to take on this project by yourself. The Neighborly family of devoted home service experts are ready to lend you a hand. Whether you need painting, plumbing, electrical, or keeping your home and guest house clean, a Neighborly home service provider can help you get it all done. Give us a call at (855) 217-8437 to schedule service.