Safely Making the Most of the Holidays
2020 has presented a lot of challenges, to say the least. We have had to pivot how we work, learn, socialize, and shop… but celebrating the holidays remotely? How does that work?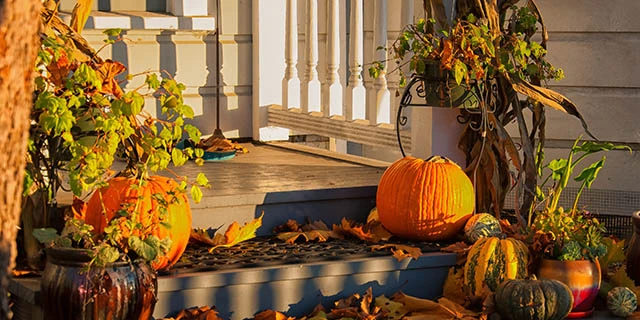 As we enter the 2020 holiday season, there has been a lot of debate on how to safely celebrate upcoming holidays. While we don't have the perfect answer for every family, we have compiled a list of suggested ways to make the most of the holidays while staying safe. Take a look!
Virtual Parties: We've all grown accustomed to Zoom happy hours, game nights and more… let's not stop there! Add some holiday flair to your virtual get together and host a creepy costume contest, pumpkin carving, or holiday carol karaoke.
Light Up the Neighborhood: Organize a drive-by holiday lighting and décor event with your neighbors! This will surely make your spirits bright. Secret weapon: hire a professional to hang your lights.
Send an E-gift or Care Package: The season of giving is upon us. If you're committed to staying home and staying safe, that doesn't mean you have to miss out on the joy and fun of secret Santa and cookie swaps. Rather, send an e-gift or care package of goodies to those you love. Here's a tip from us: treat the neat freak in your life to the gift of a clean house with a house cleaning e-gift certificate.
Start a New Tradition: Many of us find the holiday season to be busy and hectic between traveling, shopping and the seemingly never-ending number of events to attend. Take advantage of the stillness 2020 has brought us and start a new family tradition at home. Whether it be a classic movie marathon, learning a new recipe, or decorating. The opportunities are endless, and the memories last a lifetime! Check out this Neighborly blog called, "Fun at Home: Indoor Family Activities" for some inspiration.
Do a Good Deed: The holidays are a time to enjoy family, friends, and reflect on the blessings in our lives. 2020 has been difficult, so now more than ever, our communities need us. Connect to a volunteer program in your area to learn about ways you can safely give back and support families in your area who need it most.
What did we miss? What ways are you celebrating safely with friends and family this year? Share your ideas with us on Facebook.
If you would like to learn more, please be sure to refer to the CDC's guide on how to properly protect yourself this holiday season. Their website includes safety tips, guidance on local ordinances regarding gatherings, and more creative ideas on how to celebrate the holidays safely this year!