How to Organize a Small House with No Storage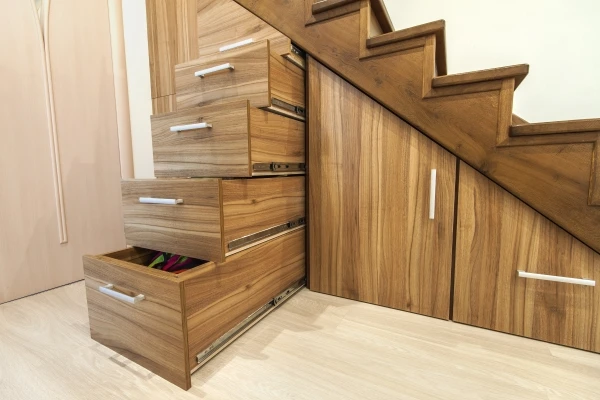 Itty bitty living spaces are becoming more popular as minimalism catches on and housing and construction prices climb. But overcluttered spaces can hurt the occupants' physical and mental health. Don't fall victim to your own stuff! These small house storage ideas will help you tidy up without getting rid of your favorite things.
Make Zones in Larger Rooms
Which rooms are largest? Are they currently being used for one purpose? Try organizing those rooms into zones with different purposes, which you can accomplish by rearranging furniture, rugs, and room dividers. For example, the guest bedroom can have a bedroom zone and a home office zone. The living room can have a living room zone and a kids' play zone. Don't worry about a room's "traditional" purpose. You can store cleaning supplies in the garage and towels in the dining room! Just do what works for you and your space.
Raise Your Beds
Bed risers are an instant solution to a lack of storage. Slide totes, shoe organizers, holiday decorations, and other items into the newly created under-bed space. Then you can breathe a sigh of relief.
As an alternative option that's more expensive but more attractive, get new bed frames with built-in drawers and/or bookshelf headboards.
Think Vertical
Stack items vertically instead of strewing them horizontally. Here are a few ways to make the most of vertical space:
Use a combo of freestanding bookshelves and totes.
Purchase over-the-door or over-the-closet-rod hanging organizers.
Mount wire basket shelving on the back of a door.
Add wall hooks behind doors, in closets, or in the stairwell for hanging items.
Put magnetic strips on the side of your fridge for storing knives and large metal utensils.
Have floating glass shelves installed by experts. See-through shelves are great for small spaces because they don't add visual clutter.
Choose Dual-Purpose and Mobile Furniture
Have you ever seen a rolling kitchen island that folds out into a dining room table? What about a storage ottoman? Any dual-purpose, modular, or mobile piece of furniture is your best friend when it comes to organizing a house with no built-in storage. If you have smaller furniture on wheels, you can even keep it in front of a door—like your pantry, for example—and easily slide it out of the way when you need to access that space. Other useful furniture for small houses includes shoe organizers that double as entryway benches and sofa tables with bookshelves underneath.
Use the Whole Closet
Take a good, hard look at your closets. Is there empty space? Commonly underutilized parts of the closet are just above, and just below, the hanging clothes. Consider adding a short dresser, plastic drawer units, or a shoe shelf on the closet floor. Up above, you can use shelf dividers with totes in between—or mount a shelf, if there isn't one already. If you have a walk-in closet or think you could make room for one, here's how to make a walk-in closet you absolutely adore.
Add at Least One Big Shelf
You'd be surprised by how much space one big shelf can add to a room. Install a shelf across the entire length of a room, about 1.5 feet from the ceiling. You can use this space for décor, books, trailing plants, and items you don't need to access very frequently. This will free up all your lower-lying horizontal surfaces for things like mail trays, stationery, and fresh flowers.
Need help hanging your shelf perfectly level? Use a local pro with shelving installation expertise to create custom storage for a small house.
Modify Existing Cabinets
Big cabinets don't always mean fantastic storage functionality. It can be difficult to reach items—and easy to forget about them—at the back of a cabinet. Here are three ways to modify your existing cabinets to get more space in your small house:
Place lazy Susans in your cabinets so it only takes a quick spin to reach all items.
Use shelf risers to create tiers of vertical storage.
Hang under-the-shelf baskets for storing light items like tea, sponges, toiletries, and more.
Rely on a professionals to install custom, glide-out shelving inside your existing cabinets. You'll double your usable storage space!
Related Topic: How to Maximize Space in Small Bedrooms and Closets
Modify Your Stairs and Stairwell
There are three potential storage areas hidden in your stairs: the stairwell, the space under the stairs, and inside the stairs themselves. In the stairwell, coat hooks and narrow shelves are easy, effective updates. Under the stairs, there are plenty of options, including a traditional closet and drawers. If you've never heard of building drawers into the face of the stairs, check out this tutorial.
How to Cope When Your House Is Too Small
If your house feels too small no matter how many DIY upgrades or decluttering tactics you try, it's time to call in the experts. Neighborly has a whole family of devoted home service experts, who can help make your home just right for your family. We can build, renovate, and beautify your home—indoors and out—to maximize the space you have, and give you the space you need. For example, we could turn your screened porch into a sunroom with year-round storage potential.
Ready to upgrade your small home to meet your needs? Search for local Neighborly home service experts here to schedule your appointment today.