Screen Porch or Sunroom— What's the Difference?
If your home has a screened-in porch already, one of the best ways to take advantage of the sun rays all year is to convert the screen porch to a sunroom. But how do you start this project? Before we get into the exact steps, let's talk definitions.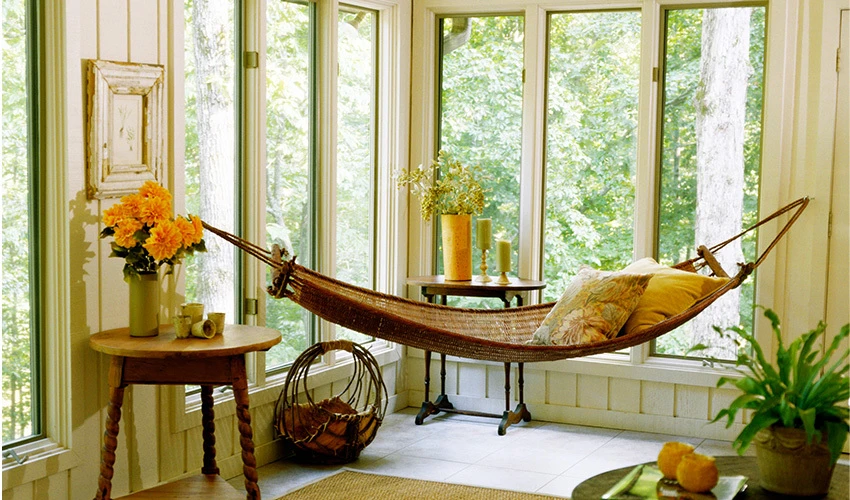 Screen Porch or Sunroom— What's the Difference?
A screen porch typically has limited insulation and a screen enclosure. Elements like wind, rain and snow can still come through the screens, so homeowners may put up temporary storm windows when it's cold.
On the other hand, a sunroom (also known as a four-season room) is designed to be a year-round living area that feels like the rest of your home. Windows and finished walls keep the space protected from the elements, while the sun rays can shine through to provide warmth and light. Ideally, the windows can still be opened to let in fresh air when the weather is good.
Should You Consider Converting a Screened Porch to a Sunroom?
Ask yourself a few questions. Would you use the porch more if it were a sunroom? Would you and your family members enjoy having another warm, sunny room in the dead of winter? Do you have a budget set aside for home renovations? If the answer to these questions is yes, converting your screened porch to a sunroom is likely a worthwhile investment.
8 Steps to Convert a Porch to a Sunroom
These eight steps will help you to achieve a successful porch-to-sunroom transformation:
1. Use the existing screen frames to guide your window selection.
Choose insulated glass units (IGUs) instead of single-pane windows. Make sure the windows will open in the manner you prefer. If you want floor-to-ceiling glass or non-standard window shapes, the windows and framing may cost you more.
2. Add framing to support real windows and insulation in the walls and roof.
This step ensures your sunroom is built to last and energy efficient. Find out if there's a Mr. Handyman team near you to provide reinforcing wall framing, drywall installation, and other handyman tasks.
3. Install the windows you selected.
We recommend seeing if Glass Doctor has a location nearby. Their window installation services can't be beat.
4. Expand your electrical system safely.
It's likely that you need more outlets and lighting for your finished sunroom. Now's the time to find a reliable electrician to safely accommodate your electrical needs.
5. Get window film to control temperature and UV exposure.
The trustworthy experts at Window Genie share the top 7 benefits of window film here, and they can help you determine which window film is right for your project.
6. Finish the interior walls, flooring, and ceiling.
Each component of this step is essential to achieve a sunroom that looks beautiful and functions optimally. Do you prefer hiring experts to get the job done right the first time? If locally available, Mr. Handyman is an excellent choice.
7. Extend ventilation for the HVAC system, and install a ceiling fan.
No homeowner wants to convert a porch to a sunroom, only to discover the HVAC can't keep up and the room feels stuffy. Set your project up for success by hiring a dependable heating and cooling team like Aire Serv. They can ensure your system will support the extra space. Finally, here are some tips for installing a ceiling fan correctly to optimize comfort.
8. Paint your new sunroom to give it a polished look.
Once your sunroom is painted to complement the rest of your living space, you'll be proud to welcome guests over for sunroom brunch. Need someone reliable to handle the painting? See if there's a Five Star Painting near you to save you time and hassle.
More Ideas and Support
Soon, you'll wonder why you waited so long to convert your screened porch to a sunroom!
As you tackle this project, remember that the Neighborly home service pros are on your side. We already mentioned some of the dependable Neighborly brands that can help with converting your screened porch to a sunroom – and there's more where that came from! Search for any other home service you need here.
If you're looking for more expert advice for home improvement and maintenance, explore the Neighborly blog.