How to Modernize a Split Level Home
Split-level homes are beautiful constructions that evoke memories of the past. With their high ceilings and efficient floorplans, they're also a great place to live. However, sometimes they can feel like living in a time capsule from the 1940s to the 1970s instead of a place that reflects you.
Fortunately, you don't have to find a new place to live — you can modernize! Here are a few ideas that you can use to create a more modern and personalized living space in your split-level home.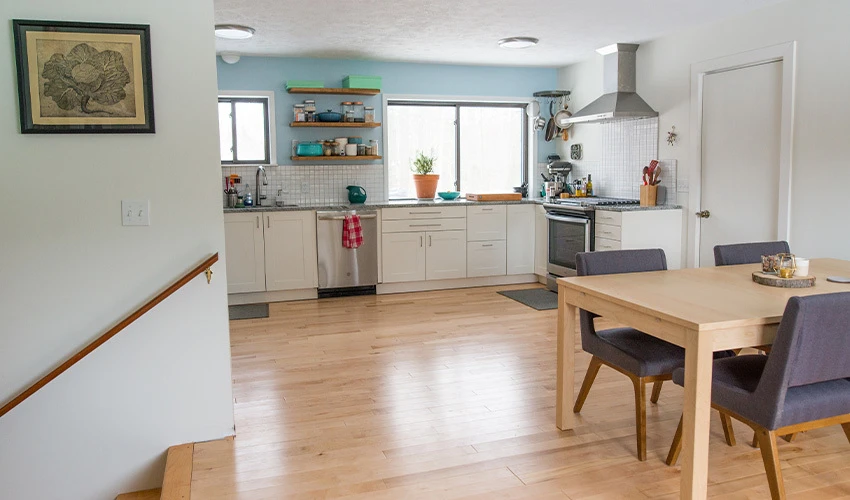 1. Change the Exterior
Your home's exterior (including faux brick or other types of lower façade) can give away its age. New siding, lower façade materials and paint are simple split-level home renovations, but they have a huge impact.
Try these options:
Re-side one portion. When you update the siding on the taller half of your home, you can get a more modern look without overspending. Try swapping your wide horizontal siding with vertical siding, narrow lap siding or architectural panels. Here's what to know about replacing siding.
Repaint the exterior. Is your house's exterior currently painted a drab brown, tan, light blue or yellow? For a modern look, repaint the siding in a more saturated color, such as a jewel tone. You can even paint it a color that's more personal to you and your sense of style.
Update the lower façade. If the lower half of your house is clad in outdated stucco, brick or tile, it may be time for an update. Redo the lower façade in a new material like cedar clapboard or stone. Or keep rocking it, and just add landscaping to complement the existing materials!
Consider a new roof color. One of the best ways to modernize a split-level home is to avoid a roof color that's too light or too close to the house color. Contrast is key for on-trend style.
Get new garage doors. Your garage takes up a lot of frontage, so it's a large portion of your guests' first impression. Search for unique, contemporary garage doors to change your home's entire look. If replacing the garage door is out of your budget, you can always paint your garage door to add a splash of color and increase curb appeal.
2. Add Trim Outside; Adjust It Inside
Efficiency was the name of the game when your house was built, which is why the exterior and interior may both be lacking modern trim. The following split-level renovations will work for most homes in this style:
Exterior: Add corner boards. On inside and outside corners, adding corner-board trim can modernize a split-level home at an affordable cost.
Exterior: Add trim under the soffit. The soffit is the roof overhang on your home. When you add trim underneath and paint it a color that contrasts with your siding, it has a bold highlighting effect.
Exterior: Frame the double front windows. If you have double front windows that feel small and far apart, frame them both in to visually tie them together. You could even create a decorative accent panel between the windows that matches the trim or provides an unexpected pop of color.
Interior: Improve molding and trim. Many split-levels, especially those from the '60s and '70s, have simple molding and trim inside, often made of dark-painted or stained wood. Painting trim a lighter color is a great way to modernize. Remove trim in some areas, like around doorways, for a starker look. If you have retro wood paneling, consider painting it too with these methods.
3. Rethink the Entryway
You may be finding it difficult to brainstorm split-level entry ideas because the entryway is so … split. Does your entryway feel cramped inside and too deep-set from the outside?
Try these split-level entry ideas:
Get a glass front door. If you're wondering how to modernize your split-level home without a lot of effort, this is a bright solution. Our best suggestion: Ask Glass Doctor® to install beautiful, modern glass doors with impeccable service.
Move the front door. If you want to stick with your current door style, consider moving it so it faces the driveway instead of the street. Add high-quality IGU windows where the door used to be, and you'll have much more light!
Add a small porch. Add a porch to the entryway nook so it creates a clean line with the front of your house. This will draw the eye to the main entrance instead of the garage.
Build storage into the foyer wall. If your entryway is small, you can make it more practical by building in storage. In most split-levels, there's free space behind at least one of the foyer walls!
Update the interior flooring. Here are some excellent tile tips to fuel your split-level entry ideas.
4. Brighten It Up
Many split-levels only have one small window per room, and the sides of the home may have no windows. When you combine this with lots of interior walls, the house often feels dark.
Consider these split-level home renovations that brighten the entire space:
Replace and add windows. Small windows can make a home look dated. Upgrade some windows with larger ones. Think about visual symmetry from the outside and inside views while replacing windows. Add windows to the blank sides of the house and rooms where you spend the most time.
Add a skylight or solar tubes. Bring in some natural light from above! Skylights are always a great option. Solar tubes are a modern solution that brighten a space without taking up a lot of ceiling space.
Go for custom mirrors. Mirrors can make small, dark rooms appear both brighter and larger by reflecting whatever light is present. Custom mirrors will reflect your unique style too!
Install custom lighting. Lighting is one of the best ways to modernize a split-level home without engaging in a major redesign. Hire an experienced professional like Mr. Electric® (if available in your area) to help you plan and install modern lighting that's both beautiful and energy efficient.
Use light paint colors. Light paint colors make small spaces appear larger. If you're considering an accent wall to break up the light colors, check out some accent wall dos and don'ts.
5. Knock Down a Few Walls
Some older homes feel "choppy" and disconnected due to excess walls. Though load-bearing walls can't be removed, you can still pursue these split-level home renovations:
Open up the kitchen. Whether your kitchen is next to the dining room or the living room, you can create a roomy, social space by knocking out part of the kitchen walls. Go for a new kitchen island in the middle or a half wall with built-in storage.
Shuffle doorways. Think about how you can move doorways to connect different rooms. For example, the hallway bathroom could become a master bathroom. An isolated linen closet can become a walk-in closet for an adjacent bedroom.
6. Upgrade Technology and Safety
Technology is an important part of planning how to modernize a split-level home. Safety upgrades might not be on your list yet, but this type of home comes with its own set of safety concerns.
Consider these tips:
Reconfigure the HVAC system. Split-levels are known for having annoying cold and warm areas. Ask a trustworthy HVAC professional to reconfigure the system so there are several HVAC zones with separate thermostats. If this solution won't fit your budget, a whole-house fan might work for you.
Install whole-house audio. Dance from room to room with this modern upgrade!
Get a smart security system. While you're modernizing your home, modernize the way you stay safe. Various smart security systems can connect with your smart home hub.
Add more carbon monoxide and smoke detectors. With the many separated rooms and floors, you likely need more of these detectors/alarms. If you want a smoke detector that lasts, consider a hardwired smoke detector.
Check on kitchen ventilation. If your range hood and kitchen exhaust fan are old or haven't been maintained, get them checked out as you're renovating.
Think about mobility. If you have elderly friends or relatives, or if you're personally becoming less mobile, be proactive so everyone can stay comfortable in your home. Learn from Mr. Handyman the many home improvements that help people age in place.
7. Hire the Right People
Inviting home service experts into your home is serious. You need experienced professionals who will perform all your split-level renovations flawlessly while respecting you and your property. Neighborly® exists so you can find trusted pros all in one place.