How to Build a Playhouse That Your Kids Adore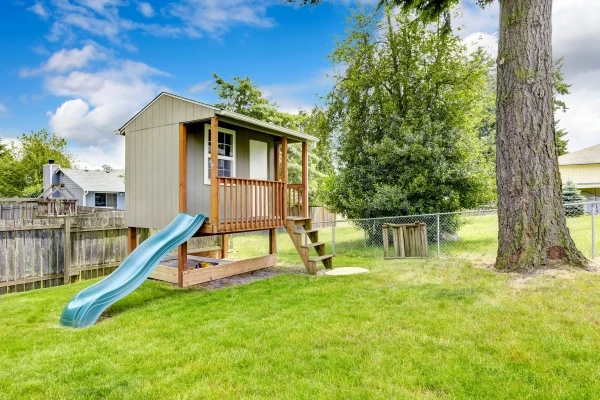 While electronics are at the forefront of many kids' activities these days, offering your kids an outdoor space to play in can help them develop their creativity, exercise, and get some fresh air. Here's how to build a kid's playhouse that will spark your child's imagination.
Start with the Playhouse Foundation: The first step is deciding what to put under your outdoor playhouse. You want something level, stable, and rot-proof. You can choose a concrete surface, paving slabs, or pressure-treated decking for a sturdy foundation that can weather the elements. If you choose concrete for your foundation, add a wooden floor to the inside of the playhouse to keep your kids safer during falls.
Give Your Playhouse Walls: Construct stud frames that can be attached to your base. Then add siding to cover the walls for better weather protection. If you need a hand with the initial setup or during any other part of this project, your local Mr. Handyman can help.
Don't Forget Windows and Doors: Measure the size and placement of your windows and door before cutting their holes in the siding. Consider adding custom-cut windows to the playhouse to keep bugs and weather out.
Top with a Playhouse Roof: You can use 2x2 lumber to form rafters and OSB or plywood for the playhouse roof material. Finish with shingles of your choice.
Add Paint: Painting a wooden playhouse adds a spark of color, makes the playhouse look sleek, and—most importantly—adds weatherproofing. You can tackle the paint job yourself or recruit an expert painter to give you a hand.
Give Your Kid Some Lights: Although it might sound like a luxury add-on, having lights installed by an electrician can make the playhouse safer for your child and give you peace of mind. You'll know they aren't stumbling around in the dark in the evenings, and you can spot them easily when they're out in the playhouse.
Cultivate the Outdoors: As you create a fun play space for your kids, consider cultivating the area around the playhouse as well. Adding a bed of flowers or a whimsical pathway leading to the playhouse can encourage your child's creativity as they play. If you'd like assistance with crafting the scenery, enlist the help of a local landscaper to make the job a breeze.
Make It Cozy: Add some kids' furniture, cushions, and blankets to make the space relaxed and ideal for your child's imagination to take flight.
Further FAQs About Building a Playhouse
It's fun and exciting to break ground on the playhouse, but there are some other elements to planning the project that you may need to consider first.
Do I need a permit for a playhouse?
Thankfully, no, you usually don't need a permit to build a playhouse. In most cases, playhouses fall into the description of single-story structures under 200 square feet, which are exempt from needing a building permit. However, you should check with your local municipality to make sure that's the case for your neighborhood.
What should I put in a playhouse?
Keep your child's interests in mind as you decide what to put in the playhouse. Would they love a playhouse with a café theme? Do they like to play workshop or garage? You can incorporate elements of what your kids love to make your playhouse really special.
How do I keep spiders out of an outdoor playhouse?
There are several formulas for homemade spray solutions, many of them with dish soap, vinegar, or essential oils like peppermint. You may find a solution like this that works against spiders. The most effective treatment may be professional, all-natural pest control services for your yard—which would mean more space to play in with no bug bites!
Related Topic: Cool Treehouse Ideas
Is This Feeling Like a Huge Project Yet?
Building your child's dream playhouse may be a bigger project than you're ready to take on. If you love the idea but feel it's too much to complete given your available time or skills, don't worry! The Neighborly family of devoted home service experts are ready to help make your project a success. Whether you need just a little help or a team to handle everything from start to finish, we're here for you. Find the Neighborly home service experts in your area or call (855) 217-8437 to schedule service today.