Cool Treehouse Ideas for Your DIY Paradise
Every neighborhood has that one lucky kid with a cool treehouse.
Whether you're treehouse-dreaming for your kids or for yourself (there's no age limit here!), we've got cool treehouse ideas for your DIY backyard paradise.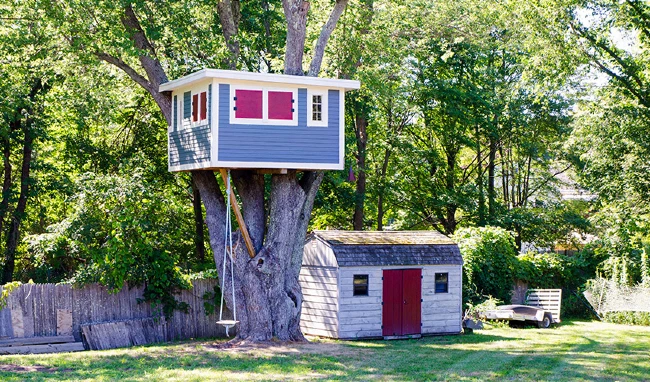 Make it fun
You've got a tree and you've got a dream. Now what?
You can use a variety of materials to construct a treehouse, but wood is the standard. However, it doesn't stop there. Once you've got your structure in place, it's easy to elevate even the most basic treehouse with fun design elements, like:
A fire pole
A zipline
A tire swing
A deck
A slide/water slide into the pool
A speaking tube
… and more!
Your treehouse should be as unique and fun as you and your family. Just like you've done inside your home, make your treehouse uniquely yours!
Choose a theme your kids will love and decorate to that effect. (Jungle safari, secret headquarters, guest house, camping trip, pirate ship – the possibilities are endless!)
Turn your treehouse into the ultimate obstacle course.
Honor your favorite sports team with spirited colors and flags.
Make your own family flag to fly on your official family treehouse!
Don't forget to choose a secret password!
Make it safe
Don't go climbing up that rope ladder just yet – or at all! This design element might not be the safest. Discuss your ideal treehouse with your family and read more for important safety considerations.
Don't build your treehouse too high.
Avoid powerlines that may be hidden in your tree's branches.
Ensure your treehouse has a safe and secure foundation.
Install sturdy handrails and ladders.
Check local building codes and homeowner's association (HOA) guidelines.
Have the structure reviewed by a professional.
Deck it out
Speaking of professionals, no one said you had to tackle this project alone! Ensure your treehouse is as epic as it can be with the help of the Neighborly experts in your neighborhood.
Whether it's suspended in a tree or sitting happily on the ground, we're honored to be caregivers for your houses and homes. Visit our home page to explore our brands and schedule service with a professional in your neighborhood.