How to Build a Breakfast Nook: Ideas and Plans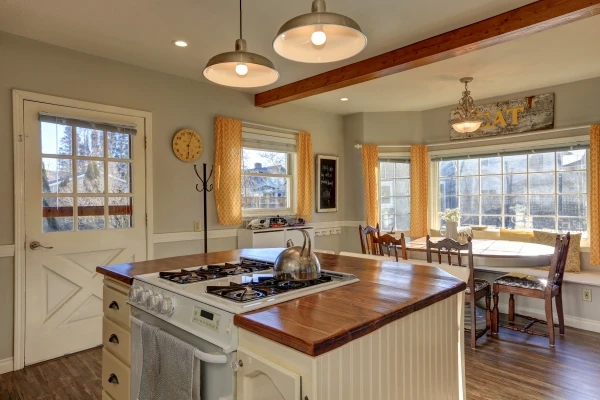 Want to enjoy your morning coffee or tea even more? Start your days in a cozy, comfortable breakfast nook designed to suit your space and unique taste! Also known as a banquette, a breakfast nook adds charm to your kitchen and provides a little extra seating, too. The process of building one starts with some detailed plans based on your style and needs. Read on to learn more about the different options and features you can incorporate into your design.
What to Consider When Building a Breakfast Nook
Even if your primary motivation for creating a banquette is to have a pleasant spot to enjoy your coffee, tea, or meals, it's worth evaluating other needs as you design the nook. Some of the most common elements of a well-designed, custom breakfast nook are:
Additional seating for growing families or guests
Extra storage for kitchen items
A visual sense of space
How Big Does a Breakfast Nook Need to Be?
One of the benefits of building a breakfast nook is that it offers a lot of functionality without a large footprint. Most kitchen remodeling experts recommend providing roughly 4 to 5 feet of horizontal space per person. For a two-person breakfast nook, you'll need approximately 4 feet of bench or seating per person with equal table space.
Related Topic: The Kitchen Remodel Planning Guide
Choosing the Right Plans for a Breakfast Nook
Whether it is a DIY breakfast nook project or you're calling in the pros, start with the plan that best suits your needs. We've picked some of our favorite breakfast nook ideas and plans based on the goals and considerations listed above.
A Seat at the Table: Breakfast Nook Seating Options
Welcome more guests or accommodate a growing family with a breakfast nook that has modular or extra seating. While many dining nooks utilize a built-in, bench-style arrangement, it's important to make it work for your kitchen and family.
On the bench: Benches can offer additional storage space, but the benefits don't stop there. If your benches are shorter than your table, you can slide the table against the wall with one bench beneath it. This is a convenient way to free up more room in a small or busy kitchen. If you'd like, have a professional handyman build the perfect benches or assemble some that you have purchased.
Chairs: Who says your breakfast nook has to have a bench? Some designs use stylish chairs. Other designs have the table in a corner, closing off two sides and leaving two sides open for seating. With the correct dimensions, this is a neat way to bring a few people together and use the far corner of the table as your dedicated coffee or espresso station! Just make sure there's a dedicated power outlet on the far wall for those devices.
Mix and match: Combine benches and chairs to reap the benefits of both. Use bench seating along the walls and chairs on the open sides of the table. You can also find examples online of designs that combine soft bench seating with chair seating.
The Perfect Breakfast Nook with Storage
From air fryers to pressure cookers to the many pots and pans that just never fit in the drawers, there is a lot to store in a kitchen—few people have ever had too much storage there. Creating a breakfast nook with bench seating that doubles as a large storage space is a great way to tuck countertop appliances and other cookie paraphernalia out of the way.
Consider these design elements for storage benches:
Open, shelf-style storage or closed, trunk-style storage. While having open shelving under your banquette bench makes items more accessible, it also puts them close to, well, people's feet. Check out this Molly Maid® blog about a similar decision when building DIY mudroom lockers.
To cushion or not to cushion? While adding cushions to a bench might make it more comfortable, that cushion may also slide, fall off, and accumulate stains. It can also make your storage bench less accessible.
One of our favorite breakfast nook plans for storage is from this step-by-step resource, complete with video to make building your own nook easier!
Creating a Feeling of Space and Pleasantness. Maybe, just maybe, this space is just for you. Or at least you could think of it that way if you're in charge of the project. Create a sense of space and comfort there by using clever tricks of the light and other design elements that bring you joy.
Shedding light on the subject. Breakfast nook lighting can set the mood for a quiet morning of reading, or it could turn your nook into your home office when needed. Opt for adjustable light fixtures that can make your nook match your mood.
A space for reflection. Use mirrors to make a small nook look and feel larger than it is. Custom mirror options from Glass Doctor are ideal for adding depth and a unique aesthetic that reflects your personality.
Bring Your Breakfast Nook to Life
If you have the vision for the perfect breakfast nook, but not the time or skilled need to make it a reality, the trusted family of Neighborly home service experts can help. Our experts and home service professionals can help you get the look, feel, and features you want. You can find all the home services you need here or call (855) 217-8437 to get started.