The Kitchen Remodel Planning Guide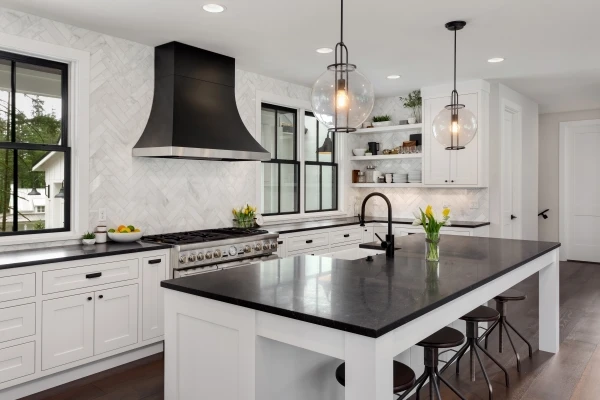 If you're researching how to plan a kitchen remodel, you probably already know this project is one of the best ways to increase the value of your home. So, go ahead and pat yourself on the back for taking the first steps to enhance the value, functionality and beauty of what is likely the most used space in your home.
When you start to factor in the time, money, and energy involved in a kitchen remodel, you may begin to have second thoughts and be wondering, "is a kitchen remodel worth it?". But don't let these things discourage you from moving forward. With a solid remodel plan (which we provide below) you can get it all done AND have the kitchen you've been dreaming of.
How to Plan a Kitchen Remodel
Poor planning is one of the most common reasons why many remodeling projects go over schedule, over budget, and fall short of expectations. Following these tips for planning a kitchen remodel can help you get the kitchen you want, without a lot of the headaches that can accompany a major remodel:
Identify your kitchen remodeling goals. Make a list of what you want, including design features, new appliances, and the date for each phase of project completion. Research design and kitchen organization and storage ideas to get some fresh inspiration for your new kitchen.
Plan the project logistics. From choosing contractors to estimating shipping times, there are many logistical details to factor in. Map out the specifics now to help keep your project on track. Although you can't control things like shipping delays, (especially for custom items) selecting between a custom or standard item can impact how long it takes to complete your remodel. If you're choosing custom features like a sheet-glass backsplash, it's important to get accurate countertop and cabinet measurements in advance for picture-perfect results (and to avoid installation problems and delays).
Create a project timeline. Once you know all the changes you want to make, create a realistic timeline to cover all tasks in a logical order. The project timeline estimates below should help you get started. Be sure to include when to order specific materials and appliances.
Time, Money, and Permits—Oh My!
Some of the most complicated aspects of planning a kitchen remodel include time, money, and permits. Get the answers to some of the most frequently asked questions to simplify your planning process.
How Long Does a Kitchen Remodel Take?
Most kitchen remodeling projects can take anywhere from six weeks to four months, or longer depending on the extent of the remodel. Several variables can impact the duration of the project, including kitchen size, customization, supply chains, and the contractor(s) you choose.
Do I Need a Permit a Remodel My Kitchen?
Whether or not you need a permit for your kitchen remodel depends on the type of remodeling and where you live. Most localities require a permits for remodeling projects involving plumbing, natural gas, electrical. Permits are usually required to ensure the work is done safely by licensed professionals and that it meets the requirements of local building codes.
How Much Can a Kitchen Remodel Cost?
Kitchen remodeling costs can vary greatly, depending on the scope of the remodel, the design, materials, appliances you choose and the professionals you hire to complete the work. To help you better estimate the costs, use this Kitchen Remodel Checklist to plan and budget your kitchen remodel.
Related Topic: Kitchen Backsplash Ideas on a Budget
Design Inspiration for Your New Kitchen
Whether you already have some kitchen design ideas or need some inspiration, here are some design planning tips to help you get started.
Free up space in your new kitchen with genius storage solutions like a custom-built cutting board cabinet, pull-out pantries for dry goods, and hidden compartments on counters to hide small kitchen appliances.
Explore the six key kitchen layout types to find the one that's right for your kitchen. The galley layout offers space efficiency, while the classic L-shape layout gives you a continuous flow of cabinets and worktops.
Today's modern kitchen renovations are all about natural materials like quartz, granite, and solid wood. Mix and match materials to achieve your desired kitchen aesthetic.
Obtain the exact look and functionality you want in your kitchen cabinets by turning to Mr. Handyman for custom cabinet services.
How to Survive a Kitchen Remodel
While starting a kitchen remodel can feel a little overwhelming, knowing you have a solid remodeling plan can help put your mind at ease. Having a plan can help you prioritize the important tasks, manage expectations, and reduce stress. It's also important to hire the right professional(s) to do the job. Choosing the right people to come into your home and complete a project can help make your kitchen remodel a much more positive experience.
Neighborly offers homeowners a range of trusted home service professionals that know how to get the job done right. From electrical and plumbing to painting and carpentry, we can help make your remodeling project go according to plan. To learn more about the variety of services we offer, call us at 855.217.8437 or visit us online.