Home Projects That Can Help You Save Money This Summer
If you are like many homeowners, you are always on the lookout for ways to save a little money. This is especially true during the warmer months, when expenses for things like entertainment, vacations and utilities can quickly add up. But did you know there are many home projects you can do now and throughout the year that can help keep these and other expenses down? If you are looking for a few truly unique home project ideas that can help you save money and minimize expenses, we've got some great suggestions for you.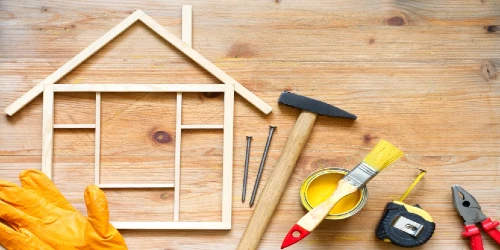 Reduce Money Spent on Entertainment
One of the biggest strains on any budget is often money spent on entertainment. But it doesn't have to be that way. In fact, you can save a lot of money simply by entertaining in your own home or backyard.
One great way to keep the family entertained is to create a game room or playroom in your home. If you have an extra bedroom, basement, or other space that isn't being used, consider how much you can save by turning it into a fun space for your family and friends to spend time.
You can go as big or as simple as you like – some comfortable seating and a selection of board games can get you started. And with a game room or playroom right at home, you can limit the number of nights out to special occasions. Whether you decide to keep it simple or go big, Mr. Handyman can help you create the ideal entertainment space for your home!
If renovating the indoors isn't an option, or if you simply want more space to entertain, you can also consider ways to create the perfect summer hangout in your own backyard. For example, you could use these tips to create a backyard waterpark that your family will actually use. Or, set up a fun fire pit area that brings your family and friends together during the evening.
Finally, to make your backyard the spot where everyone wants to be, make sure to add lots of shade, a hydration station where kids and pets can get a cool drink, and eliminate bugs and other pests that might spoil the fun. The professionals at Mosquito Joe can help keep unwanted visitors from ruining your good time.
Related Topic: Can Yearly Plumbing, HVAC, and Electrical Inspections Save You Money?
Reduce Energy Costs
Another way that smart homeowners can save money is by making their home more energy efficient. Reducing energy costs can be as simple as changing up a few of your energy use habits, or as significant as cutting your utility bills by as much as half with new windows or a smart thermostat.
For example, one of the easiest ways to start saving on energy costs is to make a habit out of checking your home for sneaky ways you use more electricity and/or water than necessary. You can also learn more about things that actually help reduce energy cost verse the things that don't. For example, constantly adjusting your old thermostat or ignoring that old energy vampire refrigerator of yours can really add up in the long term.
For more home projects that can help reduce energy costs, look no further than your windows, wiring, and thermostat. If the windows in your home are old or single-paned, they probably leak air, meaning you could be losing money trying to heat or cool your home. After years of high energy bills, you'll be amazed at how new windows can be a total game changer!
Also, if your wiring is old or insufficient for your current needs, you'll spend a lot more money trying to make it work instead of simply having the pros at Mr. Electric to set up your home to meet modern demands. And installing a smart thermostat can really help you save money on your monthly energy bills. In fact, the money you save on energy costs will help your new thermostat pay for itself.
Related Topic: The Effects of Maintenance (or Lack Thereof) on Home Value
Avoid Repair Expenses
Unexpected repair bills can definitely take the fun out of family plans. But to avoid repair expenses, you'll need to take a proactive approach to your home's major systems. For example, if your home is a bit older, chances are your plumbing system has years of wear and tear to show for it. Like any other part of your home, plumbing needs regular maintenance and repairs to keep working efficiently. But plumbing problems can be sneaky and unpredictable, since a lot of your plumbing isn't readily accessible or visible.
To prevent expensive repairs, one of the best things you can do is to have a Mr. Rooter technician come inspect and maintain your plumbing. An inspection could help identify an issue before it becomes a bigger problem. For example, an inspection might reveal your old pipes and fittings need to be replaced, which could save you from dealing with a flood later on. A plumber can also make recommendations on how to prepare your plumbing for colder weather. It's one home project that can save you a lot of money in the long run!
Think Long-Term
Along with plumbing, there are other things your home needs that require long-term thinking. After all, your home is a long-term investment in your future, and that of your family as well. One of the best ways to protect your investment is to make sure your home's exterior is kept in good condition. If you can't remember the last time your home was painted, it's probably time you begin planning to have that done.
Painting the exterior of your home is important, not only to maintain its appearance, but also to protect your home from things like inclement weather, damaging insects, and premature decay. When you look at it this way, neglecting your home's paint will actually cost you more in expensive repairs. That's how a professional paint job helps you reduce costs both now and in the future. Not sure what your home needs? Then let the professionals at Five Star Painting help with an evaluation and free estimate!
Get a Helping Hand
No matter which home projects will help you save money and enjoy your summer, Neighborly brands can help. With our wide range of home service professionals and our Done Right Promise, Neighborly has what you need to complete those cost-saving home projects this summer!