No Window? No Problem! Decorating Above a Kitchen Sink.
Doing the dishes in a kitchen sink with no window above it isn't exactly inspiring. But there's no need to embark on a full-blown renovation project. To add life and beauty to the kitchen sink zone, try one of these design ideas.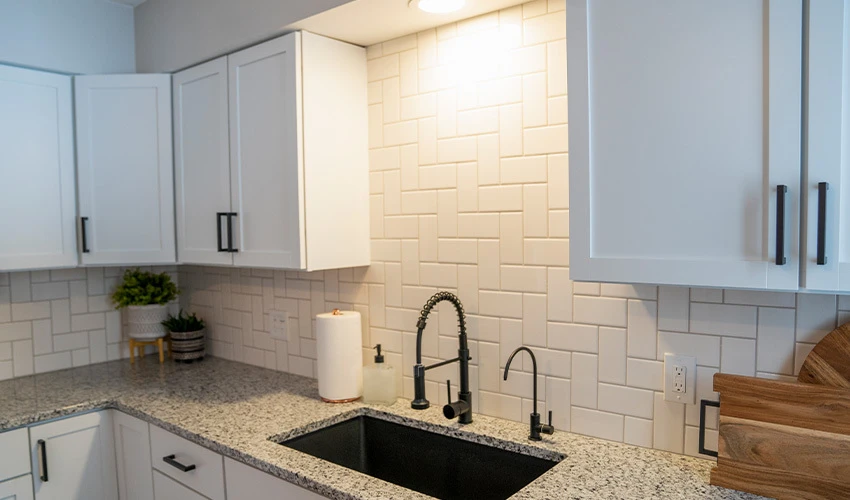 A hanging tile is an effortless kitchen décor choice with artistic flair. Choose a mosaic piece that complements your existing color scheme or a tile featuring a nature-inspired scene like this hand-painted hanging tile.
Upgrade to Inlaid Tile Work
Inlay tile design looks stylish above a kitchen sink with no window. The design could have a minimalist, monochromatic look or be intricately designed – by you or a pro. Traditional inlaid tile work involves elaborate geometric forms. Check out this unique handset inlaid tile work for inspiration.
Keep It Simple with a Backsplash
If you prefer a clean, classic look for the area above your kitchen sink, a backsplash is it. A backsplash style with a glossy finish will reflect light to make your kitchen look brighter. Check out our resource for kitchen backsplash ideas on a budget. If you aren't sure how to complete this project, Mr. Handyman® has excellent tips (and services!) for grouting a tile backsplash.
Handsome Hardware
Install a Wall Mounted Faucet
A wall-mounted faucet is modern, minimalist and extremely handy. It facilitates a clutter-free, easy-to-clean zone behind the sink, unlike a countertop-mounted faucet. Choose from a variety of faucet designs and finishes, and check if there's a Mr. Rooter® Plumbing nearby to install your kitchen faucet quickly and professionally.
Illuminate with a Light Fixture
Missing the natural light that a kitchen window would provide? No problem! Install an attractive light fixture to brighten up the space above the sink. Not only will the right fixture improve visibility, but it can be an artsy focal point. You might forget you ever missed a window. If locally available, Mr. Electric® can help you with professional light fixture selection and installation.
Incorporate Glass Shelving for Extra Storage and Display
When styled well – not piled high with spices or coffee cups – open shelving can make a statement and serve a purpose in your windowless kitchen. Place some carefully selected glassware, dishes or greenery on the shelves to give the room a bright and open feel. If locally available, Glass Doctor® would be an ideal team to install the glass shelving, especially if you want something custom.
Décor and Color
When you have a kitchen sink with no window above, the room can feel small. A mirror above the sink creates the illusion of more space. Plus, you can keep an eye on what's going on behind you (e.g., your kid sneaking a cookie?) while you do the dishes. Whether you choose to hang a single mirror or a collage of mirrors, this is an inexpensive décor idea that can significantly improve the kitchen's ambiance. It's also a great option for renters who want to avoid wall damage.
Display Antique Kitchen Tools
Do you have a collection of vintage kitchen tools you'd like to display? Use them to decorate the wall above the kitchen sink to give the area an instant style transformation. Hang them directly on the wall or place them inside frames or a shadow box. If you don't have antique or retro utensils on hand, they should be easy to find at thrift stores, at garage sales or on Etsy.
Add a Splash of Paint Color
Is the area around your kitchen sink lacking that pop of color? Why not use paint to pretty-up the area above the sink or the cabinets around it? You'll be amazed by how a fresh coat of paint completes your kitchen's look. Five Star Painting® is a trusted kitchen painting authority – see where their nearest team is.
Mount Potted or Hanging Plants
If you can't get a view of nature while doing dishes, bring a touch of green inside with potted or hanging plants. From sprawling vines and succulents to low-light herbs, you will love the life and energy plants bring to the space above your kitchen sink. In case you aren't a plant person yet, The Grounds Guys® has tips for giving your indoor plants a little TLC.
Create a Kitchen You Enjoy – No Window Necessary
As you can see, even if you have a kitchen sink with no window above it, you can still achieve an inviting kitchen that brings you pride and joy. Need some help? Our family of home service providers will transform your windowless kitchen sink area (and any other space) into one of the favorite spots. Search for any home service here or in the website menu to find a trusted, local professional.