Common Home Maintenance Mistakes That Cost a Lot of Money
Home maintenance articles with advice for do-it-yourself-ers are a dime a dozen. But if you'd rather entrust the maintenance of your home to the professionals, information on how to avoid common home maintenance mistakes can be a lot harder to find. What a lot of other articles out there don't seem to realize is that even if you are hiring others to do your home maintenance for you, it's still important to have a good system in place and know how to choose service providers who will provide consistent, high-quality service every time they come out.
The last thing you need is to worry about is that your current service pros aren't doing the job correctly and efficiently! To avoid this common mistake and feel confident that you've hired the best people for each job, here are a few tips you can use today.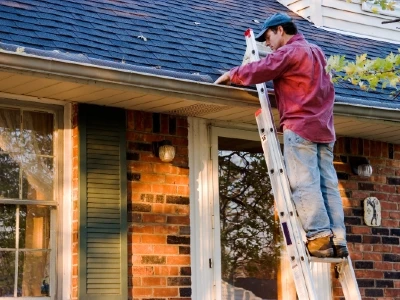 Not Using Seasonal Maintenance Schedules
Do you have a seasonal maintenance schedule? If not, you're not alone. It's one of the most common mistakes that homeowners make. The problem is that when you don't have a maintenance schedule, it is easy to forget important maintenance tasks or go too long between service appointments. Creating and using a seasonal maintenance schedule is an important first step to ensuring important household essentials (appliances, HVAC, electrical, etc) are cared for properly and consistently.
A maintenance schedule will keep you organized and help you track when service is due and completed. Critical systems like your heating and cooling, electrical, and plumbing – including your sprinkler system – need regular maintenance to stay working efficiently. Neglecting regular maintenance can shorten the life span of system components, increase your energy bills, lead to more expensive repairs and more.
To avoid these problems, you can use seasonal maintenance checklists like this one, or create your own seasonal lists using the information from these articles on spring, winter, and summer maintenance. While some of these ideas are things you could easily do yourself, for the rest, you may want to hire a good service provider like those at Neighborly.
Partially Vetting Maintenance Providers
Another common mistake that many homeowners make in their home maintenance approach is not researching their service providers enough before they bring them into their home. Like most people, you've probably done quite a bit of searching already to locate home maintenance providers. The only problem is that those rave reviews you found online may only represent one side of the story.
To make sure that you hire a quality service provider, it's important to look at the company's credentials and reputation within the industry as well as their reviews. For example, try to find out how long the company has been in business, whether it's a local business or part of a national brand, and whether they stand behind their work. If this information seems unclear or is hard to find, you may want to steer clear. For a quality home maintenance service provider, like those of us at Neighborly, our credentials and national ranking are a point of pride.
Related Topic: The Effect of Maintenance on Home Value
Accepting 'Good Enough' Results
Sometimes you just want to get a task done, and rather than continue feeling stressed about it, you accept service that isn't great – it's just okay. Like many homeowners, you've probably experienced this "good enough" service at least a time or two. But why should you pay a service provider for work that isn't truly done right? At Neighborly, we are a family of home service brands that share one important thing: a commitment to providing outstanding service to homeowners like you.
We know that caring for your home can feel like a big job, so we strive to offer you total peace of mind. No matter which service provider you choose, if it's a Neighborly brand, our professionals all work to ensure that if a job isn't done right, we'll make it right. This is our Done Right Promise.
Tolerating Inconsistent Maintenance
As you probably already know, it can be hard to get consistent quality from certain home service providers. While some of them may do a competent job, others may not. It can be such a hassle to think you have a maintenance task taken care of, only to realize that the provider you hired did such a poor job that it needs to be done again!
Inconsistent maintenance can be just as bad for your critical home systems as no maintenance at all, especially if the work simply isn't done right. To avoid future problems, it's important to hire home maintenance service providers you can trust to do the job correctly and completely the first time – and every time – they come.
Use a Multi-Service Company Instead
Doing the job right every time is something we at Neighborly take great pride in. By choosing Neighborly, a multi-service company, for all of your home maintenance needs, you can avoid some of the most common mistakes that homeowners make and, even better, ensure that your home is properly cared for year after year.
You can save a lot of time that would be spent researching individual companies, since you know that all of Neighborly's service brands offer the same great quality and convenience. From easy online scheduling to our Done Right Promise, you can count on the experts at Neighborly to provide the quality maintenance you and your home deserve.