Basement Storage Ideas from Home Improvement Pros
Is your basement turning into a catch-all for junk? Whether you have a finished or unfinished basement, a high or a low budget, keep everything organized with these creative basement storage solutions that look great.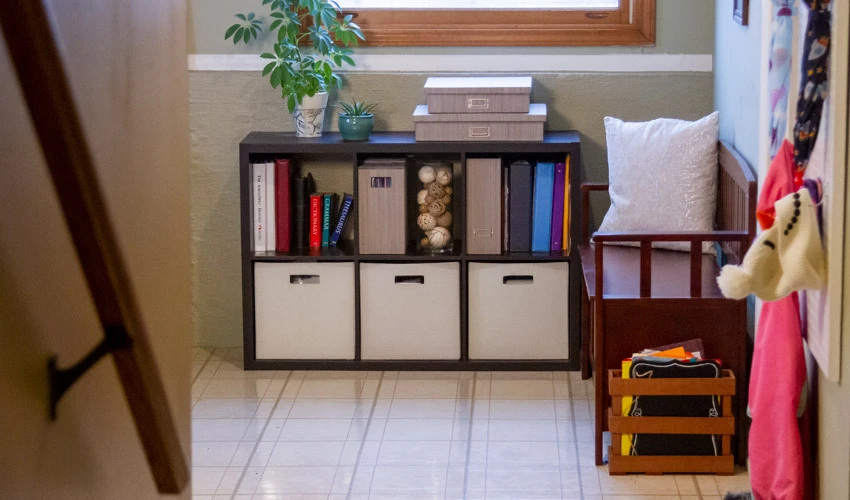 If your basement is unfinished, try one of these DIY or store-bought options.
Buy some industrial plastic shelves from the hardware store
Buy a stackable shelving system with integrated storage containers
Build shelves with two-by-fours and plywood to hold color-coded totes (Try these instructions, or hire someone to build it!)
Build large drawers under an existing workbench, countertop or seating
Install peg board with hanging baskets and hooks
Build garment racks using tension rods or broom handles
When organizing your unfinished basement, remember to protect your belongings. Sealed containers are the best basement storage solutions to protect against dust, humidity, flooding and pests. Stored furniture may need to be raised slightly off the floor and covered with a sheet.
Seeing water damage or mold? Reach out to Rainbow International to fully restore your basement.
A finished basement calls for a more visually appealing storage strategy. In a finished basement, you can also get away with open baskets and totes, rather than keeping everything sealed. Try these options:
Buy a thrifted set of vintage lockers
Buy a shelving system for cute fabric totes or woven baskets
Buy or build a room divider to separate storage areas from living areas (Idea: Start with a set of bi-fold doors.)
Install sliding barn doors or curtains to cover up unattractive shelving
Build industrial-chic shelves using plumbing pipes and pre-finished wood planks
Build "floating" garment racks with finished dowel rods and natural rope (or cables)
If you want someone to build these solutions for you, hire local pros with plenty of experience.
No matter how organized your finished basement is, you won't hang out there if it's too cold. Keep your basement warm with these tips from Aire Serv.
Have It Built In!
When it comes to basement storage solutions, built-in shelving and cupboards can't be beat. Ask your local Mr. Handyman to custom-build cubbies under the stairs, floor-to-ceiling cabinets, garment lockers, custom drawers and more.
To top it all off, Mr. Electric will put custom lighting in your built-in storage, and Glass Doctor can install modern glass shelving.
Yes, Neighborly's home service brands can do pretty much anything to improve your basement! Search for more services today.
Space-Saving Hacks
When deciding on the best basement storage ideas, think creatively about using the whole space.
Under the stairs
Stairwell space
Vertical wall space
Behind-the-door space
Ceiling space – Try building "tracks" that plastic totes can slide into!
Creative Basement Organization Containers
It's time to recycle those old, falling-apart cardboard boxes. If you prefer basement storage vessels that aren't just plain plastic totes, try using metal buckets, wooden fruit crates, canvas totes, storage ottomans, and thrifted furniture.
Don't like labelling? Go for clear storage containers, and organize the items in categories. For even more basement storage ideas, check out this post from Rainbow International, an important part of the Neighborly family of brands.
Want to Do All the Projects?
If you have other home improvements on your mind, search for more professional home services from Neighborly experts in your area. Our local teams are trained, and our brands are nationally recognized for providing excellent service.